E-book
Overcoming Anxiety For Dummies
ISBN: 978-1-119-99827-3
352 pages
February 2011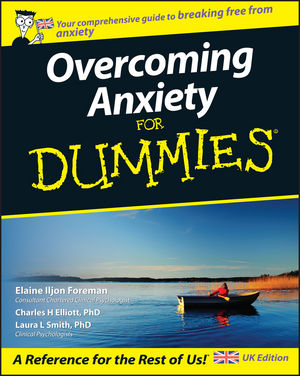 There are many forms of anxiety disorder, including General Anxiety Disorder (GAD), Panic Attacks, Phobias (including social anxiety), Obsessive Compulsive Disorders, Post-Traumatic Stress Disorder, and Acute Stress Disorder. Even in their most mild forms, these disorders can be troubling and exhausting – at worst they can severely disable a person's ability to function in day-to-day life. Severe anxiety and phobic disorders affect 18% of the UK population. (nopanic.org.uk)
Symptoms of anxiety range from the mental and emotional – depression, having difficulty concentrating, losing patience easily – to the physical – excessive thirst, headaches, pins and needles, and more (www.bbc.co.uk) Often the problem is self-feeding – people try to keep things under control whilst simultaneously worrying about being anxious all the time, and the cycle goes on. Psychotherapy, medication and self help are the key treatments for anxiety – however, as many people either don't have access to, or choose not to take, professional treatment, self help is the key for a majority of sufferers. A Dummies book on the subject will present the facts without the jargon, and help people find the trustworthy guidance they need.
See More
Introduction.
Part I: Detecting and Exposing Anxiety.
Chapter 1: Analysing and Attacking Anxiety.
Chapter 2: Examining Anxiety: What's Normal, What's Not.
Chapter 3: Overcoming Obstacles to Change.
Chapter 4: Watching Worries Ebb and Flow.
Part II: Understanding Thought Remedies.
Chapter 5: Becoming a Thought Detective.
Chapter 6: Changing Your Anxiety – Provoking Assumptions.
Chapter 7: Watching Out for Worry Words.
Part III: Acting Against Anxiety.
Chapter 8: Facing Fear One Step at a Time.
Chapter 9: Simply Simplifying Your Life.
Chapter 10: Getting Physical.
Chapter 11: Sleep, Sweet Sleep.
Part IV: Focusing on Feeling.
Chapter 12: Relaxation: The Five-Minute Solution.
Chapter 13: Creating Calm in Your Imagination.
Chapter 14: Relieving Anxiety with Herbs and Dietary Supplements.
Chapter 15: Prescribing Peacefulness.
Chapter 16: Practising Mindful Acceptance.
Part V: Helping Others with Anxiety.
Chapter 17: Helping Your Children Fight Anxiety.
Chapter 18: Coping with Your Partner's Anxiety.
Part VI: The Part of Tens.
Chapter 19: Ten Ways to Stop Anxiety Quickly.
Chapter 20: Ten Anxiety Busters That Just Don't Work.
Chapter 21: Ten Ways to Deal with Relapse.
Chapter 22: Ten Signs That You Need Help – and Where to Get It.
Appendix: Resources for You.
Index.
See More
Elaine Iljon Foreman is an Associate Fellow of the British Psychological Society who has researched and treated anxiety and phobias for over 25 years. Charles H Elliott, PhD, and Laura L Smith, PhD, are clinical psychologists
See More