Relaxation For Dummies
ISBN: 978-1-119-99909-6
398 pages
March 2012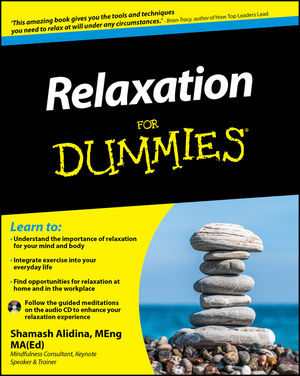 New ways to embrace relaxation every day!
Relaxation For Dummies provides a straightforward guide to understanding the importance of relaxation in our readers' day-to-day lives. Covering a variety of simple relaxation techniques, including meditation, breathing techniques, hypnotherapy, guided imagery and yoga, this book shows readers how to use physical and emotional relaxation to combat a range of issues including stress, anxiety, phobias and fears. The book is accompanied by an audio CD that provides accompanying relaxation exercises for readers to follow.
Relaxation For Dummies:
Shows readers how to understand the meaning of relaxation
Provides relaxation strategies to help you take it easy
Teaches the benefits of healthy breathing
Allows the reader to harness the powers of Yoga and Tai Chi to increase well-being
Note: CD files are available to download when buying the e-Book version
See More
Introduction 1
Part I: Introducing Relaxation 7
Chapter 1: Discovering Relaxation 9
Chapter 2: Understanding Stress 23
Chapter 3: Planning Your Journey into Relaxation 39
Part II: Exploring Relaxation Techniques Using Your Body 55
Chapter 4: Trying Progressive Relaxation 57
Chapter 5: Practising Breathing Techniques 71
Chapter 6: Using Physical Activity to Relax 89
Chapter 7: Yoga, T'ai Chi and Qigong 103
Chapter 8: Massage, Acupressure and Reflexology 125
Part III: Discovering Relaxation Techniques Using Your Mind and Heart 139
Chapter 9: Guided Imagery, Self-Hypnosis, Autogenics and Music 141
Chapter 10: Meditation 159
Chapter 11: Spirituality and Prayer 177
Chapter 12: Managing Your Mind 191
Chapter 13: Improving Your Attitude 209
Part IV: Everyday Relaxation 225
Chapter 14: Finding Ways to Sleep Serenely 227
Chapter 15: Discovering Relaxation at Home 237
Chapter 16: Find Relaxation at Work 257
Part V: Managing Problems Using Relaxation Techniques 273
Chapter 17: Managing Anxiety, Worry, Panic and Depression 275
Chapter 18: Managing Chronic Disease 291
Chapter 19: Anger and Burnout 307
Part VI: The Part of Tens 319
Chapter 20: Ten Golden Rules of Relaxation 321
Chapter 21: Ten Quick Ways to Relax 331
Chapter 22: Ten Ways to Deep Relaxation 343
Chapter 23: Ten Resources for Further Help 351
Appendix: Audio CD 359
Index 361
See More
Shamash Alidina, MEng MA(Ed), is a professional mindfulness trainer, keynote speaker and stress management consultant. He specialises in mindfulness training and teacher training for therapists, coaches, executives and the general public. He has trained with Jon Kabat-Zinn, Thich Nhat Hanh and Matthieu Ricard, and at Bangor University's Centre for Mindfulness. He has over ten years of experience in teaching mindfulness. He currently runs mindfulness-based courses one-to-one and in groups in London, as well as via distance-learning. He is the author of Mindfulness For Dummies.
See More