A Brief History of Death
ISBN: 978-1-4051-0183-7
Paperback
204 pages
January 2005, Wiley-Blackwell
US $32.95

Add to Cart
This price is valid for United States. Change location to view local pricing and availability.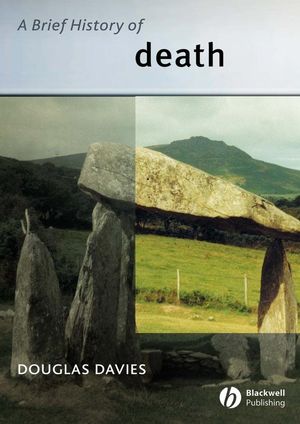 This is a Print-on-Demand title. It will be printed specifically to fill your order. Please allow an additional 2-3 days delivery time. The book is not returnable.
List of illustrations.
1 Journey Beyond.
Gilgamesh.
Adam and Eve.
Death, Sin and Atonement.
Resurrection-Transcendence.
Release-Transcendence.
Self-Transcendence.
Hope and Faith.
To Be or Not To Be.
Traditional Futures.
The Uneasy Species.
Death Our Future.
Autobiographical History of Death.
Methods of Approach.
Words Against Death.
Myth Again.
2 Parting's Sweet Sorrow.
Relationships, Death and Destiny.
Family Bonds.
Hell, Life and Work.
Secular Ethics and Loss.
Freud and Bowlby.
Grief-Stages.
Fixing the Unfixable.
Helplessness.
Aberbach and Charisma.
World Religions.
Identity and Religions.
Identity's Demise and Death.
Adulthood--Childhood, Maturity and Death of Parents.
Moral-Somatic Links.
Spiritualism.
Departure.
3 Removing the Dead.
Souls.
Status and Destiny.
Ritual Change.
Resurrection.
Secular Trends.
Changing Times.
Default Religion.
From Respect to Dignity.
Death-Style and Belief.
Cremated Remains.
Space, Cryogenics and Computers.
4 Ecology, Death and Hope.
Criminals, Heretics, Bodies and Belief.
Dying at Home.
Hospice.
Symbolic Bodies.
American Ways of Death.
Ecology.
Hope Springs Eternal.
Forest.
Positive and Negative Dust.
Ethics and Spirituality at Large.
Death's Paradigm Shift.
Ecological Immortality.
5 Art, Literature and Music.
Variety.
Bible.
Dante.
Milton.
Secular Strains.
Art.
Portraying the Dead.
Religious Fusion.
Hope.
6 Places of Memory.
Myth.
The Dynamics of Memorial Sites.
Locating Hope: the Dynamics of Memorial Sites.
Place and Hope.
How to Speak of the Dead?.
Location 1: Graveyard and Cemetery.
Hope 1: Eternal, Eschatological Form of Identity.
Location 2: Cremation and Remains.
Hope 2: Internal, the Retrospective Fulfilment of Identity.
Location 3: Woodland Burial.
Hope 3: Natural, the Ecological Fulfilment of Identity.
Memorial Texts.
The National Memorial Arboretum.
Lifestyle -- Death-Style.
7 Fear of Death.
A Mythical Form.
Hinduism, Buddhism.
Christianity.
Albert Schweitzer and C. S. Lewis.
Essential Fear.
Plague.
Modern Devastations.
Philosophical Fears.
Psychology and Fear of Death.
Picasso.
Fears Real and Imagined.
Contemporary Fears.
Imaginative Fears.
Fear Abolished.
8 Purposeful and Useless Death.
Power of Death.
Warfare.
Genocide.
Violence at Heart.
Disasters.
Baby-Death.
Suicide -- Euthanasia.
Offending Deaths.
Illness and Death.
The Future of Death.
Christian Eternal Life.
Death's Margins.
Age and Death.
Hopeless Non-Places.
2020 Time and Vision.
The World's Death.
Bibliography.
Index