A Companion to the History of the Middle East
ISBN: 978-1-4051-0681-8
Hardcover
624 pages
September 2005, Wiley-Blackwell
US $213.95

Add to Cart
This price is valid for United States. Change location to view local pricing and availability.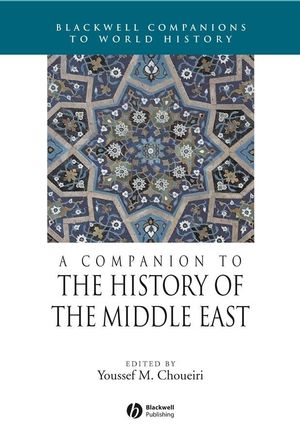 This is a Print-on-Demand title. It will be printed specifically to fill your order. Please allow an additional 5-6 days delivery time. The book is not returnable.
Other Available Formats:
E-book
List of Tables.
List of Figures.
List of Maps.
Notes on Contributors.
Preface and Acknowledgments.
Introduction (Youssef M. Choueiri (University of Exeter).
Part I: The Formative Period of Islam.
1. The Rise of Islam (Gerald R. Hawting).
2. The Islamic Conquests (Fred M. Donner).
3. The Caliphate (Hugh Kennedy).
Part II: Cultural Traditions and Social Structure.
4. The 'Ulama': Status and Function (Zouhair Ghazzal).
5. Shi'ism (Robert Gleave).
6. Historiography of Sufi Studies in the West (Alexander Knysh).
Part III: Imperial Structures and Dynastic Rule.
7. Military Patronage States and the Political Economy of the Frontier, 1000-1250 (Michael Chamberlain).
8. The Mamluk Institution (P. M. Holt).
9. North Africa: State and Society (Michael Brett).
Part IV: A New Middle Eastern System.
10. Ottoman and Safavid: States, Statecraft, and Societies, 1500-1800 (Metin Kunt).
11. Urban Life and Middle Eastern Cities: The Traditional Arab City (André Raymond (translated by James McDougall).
Part V: The Middle East and the New World Order.
12. A Different Balance of Power: European Expansion and Local Responses (Abdul-Karim Rafeq).
13. Colonialism, the Ottomas, the Qajars and the Struggle for Independence: The Rab World, Turkey, and Iran (Peter Sluglett).
Part VI: Independence and Nation Building.
14. Zionism and the Palestine Question (Emma C. Murphy).
15. Nationalisms in the Middle East: The case of Pan-Arabism (Youssef M. Choueiri).
16. Turkish and Iranian Nationalisms (Ioannis N. Grigoriadis and Ali M. Ansari).
17. Political Parties and Trade Unions (Raymond Hinnebusch).
18. Political Life and the Military (Gareth Stansfield).
19. Political Economy: From Modernization to Globalisation (Simon Murden).
Part VII: Modern Issues and Contemporary Challenges.
20. Islamic Urbanism, Urbanites, and the Middle East City (Michael E. Bonine).
21. Oil and Development (Paul Stevens).
22. Modernizing Women in the Middle East (Valentine M. Moghadam).
23. Politics and Religion (Beverley Milton-Edwards).
24. Ethnonational Minorities in the Middle East: Berbers, Kurds, and Palestinians (Lise Storm).
25. Civil Society in the Middle East (Tim Niblock).
26. The States-System in the Middle East: Origins, Development, and Prospects (Simon Bromley).
Bibliography.
Index.