E-book
A Companion to the History of Economic Thought
ISBN: 978-1-4051-2896-4
E-book
736 pages
April 2008, Wiley-Blackwell
US $189.99

Purchase This E-book
This price is valid for United States. Change location to view local pricing and availability.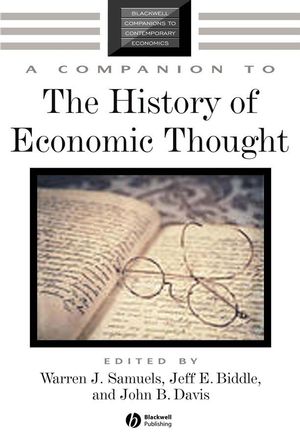 Adobe e-books are read using Adobe Digital Editions. Install Adobe Digital Editions on your PC in order to read or transfer your e-book.
List of Figures.
List of Tables.
List of Contributors.
Preface.
1. Research Styles In The History Of Economic Thought: Jeff E. Biddle (Michigan State University).
Group I: Historical Surveys:.
2. Ancient And Medieval Economics: Todd Lowry (Washington & Lee University).
3. Contributions Of Medieval Muslim Scholars To The History Of Economics And Their Impact: Refutation Of The Schumpetarian Gap: Hamid Hosseini (King's College).
4. Mercantilism: Lars Magnusson (Uppsala University).
5. Physiocracy And French Pre-Classical Political Economy: Philippe Steiner (University Paris-IX Dauphine).
6. Pre-Classical Economics In Britain: Anthony Brewer (University Of Bristol).
7. Adam Smith (1723-1790): Theories Of Political Economy: Andrew S. Skinner (University Of Glasgow).
8. Classical Economics: Denis O'Brien (University Of Durham).
9. Post-Ricardian British Economics, 1830-1870: Sandra Peart (Baldwin-Wallace College) And David Levy (George Mason University).
10. Karl Marx: His Work And The Major Changes In Its Interpretation: Geert Reuten (University Of Amsterdam).
11. The Surplus Interpretation Of The Classical Economists: Heinz Kurz (University Of Graz).
12. Non-Marxian Socialism: John King (La Trobe University).
13. Utopian Economics: Warren J. Samuels (Michigan State University).
14. Historical Schools Of Economics: German And English: Keith Tribe.
15. American Economics To 1900: William J. Barber (Wesleyan University).
16. English Marginalism: Jevons, Marshall And Pigou: Peter Groenewegen (University Of Sydney).
17. The Austrian Marginalists: Menger, Böhm-Bawerk, And Wieser: Steven Horwitz (St. Lawrence University).
18. Early General Equilibrium Economics: Walras, Pareto And Cassell: Donald A. Walker (Indiana University Of Pennsylvania).
19. The "First" Imperfect Competition Revolution: Christina Marcuzzo (Universitat Di Roma).
20. The Stabilization Of Price Theory, 1920-1955: Roger E. Backhouse (University Of Birmingham).
21. Interwar Monetary And Business Cycle Theory: Macroeconomics Before Keynes: Robert W. Dimand (Brock University).
22. Keynes And The Cambridge School: Geoff C. Harcourt (Jesus College) And Prue Kerr (Centro Di Richerche E Documentazione 'Piero Sraffa').
23. American Institutional Economics In The Interwar Period: Malcolm Rutherford (University Of Virginia).
24. Postwar Neoclassical Microeconomics: S. Abu Turab Rizvi (University Of Vermont).
25. The Formalist Revolution In The 1950s: Mark Blaug (University Of Amsterdam).
26. A History Of Postwar Monetary And Macroeconomics: Kevin Hoover (University Of California, Davis).
27. The Economic Role Of Government In The History Of Economic Thought: Steven G. Medema (University Of Colorado, Denver).
28. Postwar Heterodox Economics.
The Austrian School Of Economics: 1950-2000: Peter Boettke And Peter Leeson (George Mason University).
Feminist: Janet Seiz (Grinnell College).
Institutionalist: Geoff Hodgson (University Of Hertfordshire).
Post Keynesian: Sheila Dow (University Of Stirling).
Radical Political Economy: Bruce Pietrykowski (University Of Michigan).
Group II: Historiography:.
29. Historiography: Matthias Klaes (Keele University).
30. The Sociology Of Economics And Scientific Knowledge, And The History Of Economic Thought: A. W. Coats (University Of Nottingham).
31. Exegesis, Hermeneutics And Interpretation: Ross Emmett (Augustana University College).
32. Textuality And The History Of Economics: Intention And Meaning: Vivienne Brown (The Open University).
33. Mathematical Modeling As An Exegetical Tool: Rational Reconstruction: A. M.C. Waterman (St. John's College).
34. Economic Methodology Since Kuhn: John B. Davis (Marquette University).
35. Biography And The History Of Economics: Don E. Moggridge (University Of Toronto).
36. Economics And Economists In The Economic Policy Process: Crauford D. Goodwin (Duke University).
37. The International Diffusion Of Economic Thought: Jose Luis Cardoso (Technical University Of Lisbon).
38. The History Of Ideas And Economics: Mark Perlman (University Of Pittsburgh).
39. Research In The History Of Economic Thought As A Vehicle For The Defense And Criticism Of Orthodox Economics: John Lodewijks (University Of New South Wales).
Name Index.
Subject Index.