Software
Emergency Paediatric Care CD-ROM: The Practical Approach
ISBN: 978-1-4051-3262-6
December 2004, BMJ Books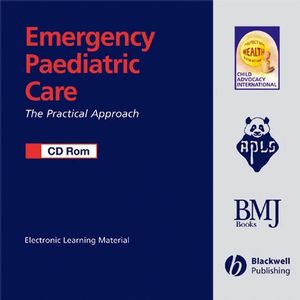 With over 900 pages of management including more than 500 clinical photographs, x rays, ECGs, this CD Rom contains information on the clinical management of neonatal and paediatric emergencies.

Also included are over 120 videos which demonstrate children experiencing emergency problems and receiving various life saving procedures, an essential element of the CD Rom as a training tool. There are algorithms for the management of emergencies throughout, as well as a formulary of emergency drugs.

A valuable resource to all who are dealing with this element of paediatric life support, this must have CD Rom covers emergencies relevant in both rich and poor countries.
See More
Invaluable resource for all dealing with the emergency element of paediatric life support


Contains over 900 pages of information on the clinical management of neonatal and paediatric emergencies, including more than 500 clinical photographs, x-rays and ECGs

Over 120 video clips provide case studies of children experiencing emergency problems and receiving various life saving procedures

Algorithms for the management of emergencies are provided throughout

Includes the Advanced Paediatric Life Support formulary of emergency drugs
See More
Learn more about