Improving Health through Nursing Research
ISBN: 978-1-4051-3411-8
Paperback
272 pages
November 2009, Wiley-Blackwell
US $54.99

Add to Cart
This price is valid for United States. Change location to view local pricing and availability.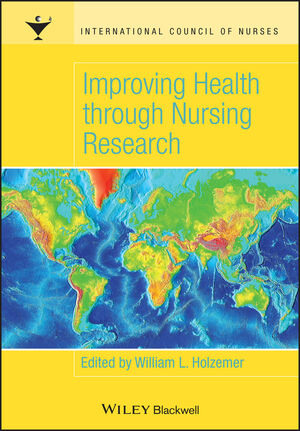 Other Available Formats:
E-book
List of Contributors
Acknowledgments
Preface
Part 1 Nursing science and global health
1 Global perspectives on health and nursing
Barbara Parfitt, Flora Cornish & Linda Ferguson
Introduction
Global priorities for health
Health systems and the health care workforce
International organizations and development aid
Conclusions
Notes and References
2 Building knowledge
Sally H. Rankin & William W. Rankin
Knowledge development in science
Modern philosophy and its influence on science
Twentieth century philosophy of science
Postmodern philosophy's influence on nursing science
Conclusions
References
3 Theory and nursing science
Carmen J. Portillo & William L. Holzemer
Introduction
Types of theory
Components of theory
Nursing definitions and theory
Conclusions
Note and References
Part 2 Nursing research: making a difference in people's lives
4 Improving patient care
Suzanne Willard
Nursing research and clinical practice
Symptom management
Disease prevention
End-of-life care
Pain management
Conclusions
References
5 Enhancing care delivery
Mary A. Blegen & Julaluk Baramee
Introduction
The nurse supply
Measuring performance, productivity, and value
Determining the right provider mix
Cost-effectiveness
Care quality and safety
Conclusions
Notes and References
6 Building professional nursing
June Webber
Introduction
From early industrialization to market domination
Building the nursing profession
Autonomy through knowledge, self-regulation, and affiliation
Building the profession globally
A new nursing globalism
Conclusions
References
7 Defining the research problem
Junko Tashiro & William L. Holzemer
Identifying problems for research
Sources of problems
Conducting a literature review
Conclusions
Notes and References
Part 3 Quantitative research
8 Introduction to quantitative research
Erika Sivarajan Froelicher & Kawkab Shishani
Introduction
Variables
Principles of causality
Randomization
Co-variates: confounding or modifying?
Parametric and non-parametric analytical methods
Research designs
Summary
References
9 Sampling
William L. Holzemer
Introduction
Types of sampling
Sampling error
Estimating sample size
Sample loss
Random selection of subjects
Summary
References
10 Selecting instruments for research
Julita Sansoni
Introduction
Selecting or developing an instrument
Standardized instruments
Cultural comparability
Instrument translation
Assessing available tools
Summary
References
11 Experimental research designs
John Arudo
Randomized controlled trials
Hypothesis testing
Other research designs
Threats to design validity
Summary
References
12 Research critique
Jeanne K. Kemppainen
Introduction
Substruction
A substruction example
Substruction limitations
Outcomes Model for Health Care Research
Conclusions
Note and References
13 Preparing data for analysis
Dean Wantland
Introduction
Developing and storing data
Developing a code book
Missing data
Cleaning data to ascertain accuracy
Instrument scoring
Assessing normal distribution
Longitudinal intervention studies
Preliminary data analysis
Conclusions
Resources
Part 4 Qualitative research
14 Interpretative research methods
Minrie Greeff
Introduction
Research questions
Strategies
Sampling and data saturation
Textual analyses
Summary
Note and References
15 Interpretative data management and analysis
Roberta S. Rehm
Introduction
Underlying paradigms
Interpretive methods and procedures
Data analysis
Rigor and integrity
Conclusions
Note and References
16 Preparing qualitative data for analysis
Teri Lindgran
Introduction
Collection, transcription, and management
Preparing data for analysis
Manual versus digital analysis techniques
Conclusions
Notes and References
Part 5 Research ethics
17 Responsible conduct of research
William L. Holzemer
Ethics in nursing research and practice
Scientific integrity
Responsible conduct of research
Conclusions
Notes and References
Part 6 Research support
18 Writing a research proposal
Karen H. Sousa & Marjolein M. Iversen
Introduction
Preparatory work
Writing the proposal
Components of a proposal
Evaluation criteria
Finishing touches
Summary
Note and References
19 Planning and managing a research project
Sarie Human
Introduction
Planning
The primary investigator's role
Assembling and managing a team
Data ownership
Informed consent
Interdisciplinary collaboration
Chalenges in nursing research
Summary
Further reading
20 Presenting and publishing research findings
Leana R. Uys
Introduction
Audiences for research findings
Forms of presentation
Summary
Note and References
21 Facilitating nursing research
Lauren S. Aaronson & William L. Holzemer
Introduction
Resource centers for nursing research
Conclusions
Notes and References
Part 7 Translating research to practice
22 Information and communication technology infrastructure for evidence-based practice
Suzanne Bakken, Leanne M. Currie & Ritamarie John
Introduction
Infrastructure for evidence-based practice
Sample infrastructure uses in nursing
Conclusions
Note and References
23 Translating research into practice
Cornelia Ruland
Introduction
Systematic literature reviews
Practice-based evidence
Evidence-based, shared decision-making between caregivers and patients
Evidence-based symptom management
Evidence-based self-management of illness
Conclusions
Notes and References
Index