Imperial Island: A History of Britain and Its Empire, 1660-1837
ISBN: 978-1-4051-3444-6
Hardcover
448 pages
March 2009, Wiley-Blackwell
US $103.95

Add to Cart
This price is valid for United States. Change location to view local pricing and availability.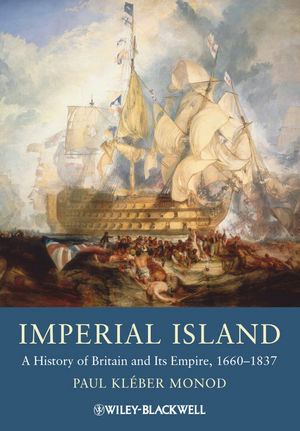 "Paul Monod manages to pack in a very great deal and the style is easy, accessible and informative. This, then, is a book to recommend." (
The Journal of the Historical Society
, 2010) "This book brings together in one resource information that has previously been available only in small fragments widely distributed throughout the literature of different disciplines and, additionally, highlights the unifying concepts in a very diverse discipline." (
Doody's
, February 2010)
"The combination of completeness and conciseness with an attractive style is very difficult to master. This is an outstandingly good example of how it ought to be done. It is written in a relaxed, flowing prose, always accessible and often witty, which carries the reader effortlessly forward. ... A book that gives a strong and pleasing impression of a gifted teacher in full command of his subject." (The International History Review, December 2009)
"A great introduction to the era. Paul Monod has brilliantly captured the vigorous, messy, complexity of eighteenth-century Britain in all its glory. This is where undergraduates need to start their encounter with Britain's first age of empire."
–
Daniel Szechi,
University of Manchester
"This is a terrific textbook that is destined to surpass anything extant in the field. It is beautifully written, clear and concise while also being miraculously comprehensive and wide-ranging ... Eighteenth century British historians have been waiting for a textbook like this for a long time."
–Kathleen Wilson, SUNY Stony Brook
"An outstanding college textbook, Imperial Island reveals the character of the nation that ruled the world by the end of the eighteenth century. It takes advantage of new historical approaches to the period and includes descriptive accounts of Britain's military success and imperial expansion into North America, India, Africa, and the Pacific. Paul Monod's good-humored, unpretentious writing style makes this a delightful book to read." 
–Molly McClain, University of San Diego
"Paul Monod's new textbook is erudite yet easy to read. Deeply informed by the latest scholarship, it is also thematically focused, logically structured, nicely balanced, and engagingly written. Imperial Island will provide students with an excellent, up-to-date introduction to Britain and the British Empire in the 'long' eighteenth century."
–Phil Harling, University of Kentucky
"This is a really excellent introduction to the history of the British Isles and the British Empire from the accession of Charles II to the accession of Queen Victoria. The strong political narrative is supported with excellent material on the economic, social and cultural contexts. The text is based on sound research and good judgement, but it is also written by an experienced scholar and well-regarded teacher in an accessible, even witty style. It is embellished with useful illustrations and relevant maps, as well as apt quotations that make it not only highly informative but a great pleasure to read. Paul Monod has put students and teachers in his debt."
–H. T. Dickinson, University of Edinburgh