Textbook
A Companion to Contemporary Art Since 1945
ISBN: 978-1-4051-3542-9
Paperback
648 pages
April 2006, ©2006, Wiley-Blackwell
US $62.95

Add to Cart
This price is valid for United States. Change location to view local pricing and availability.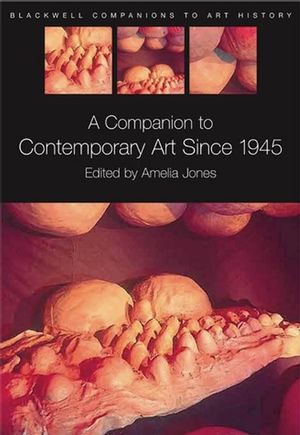 This is a Print-on-Demand title. It will be printed specifically to fill your order. Please allow an additional 2-3 days delivery time. The book is not returnable.
List of Figures.
Notes on Contributors.
Series Editor's Preface.
Acknowledgments.
Part I: Introduction.
1. Writing Contemporary Art into History, a Paradox?: Amelia Jones (University of Manchester).
Part II: Decades.
1945-1960.
2. 'America' and its Discontents: Art and Politics 1945-1960: Gavin Butt (Goldsmiths College).
1960-1970.
3. '1960-1970': A Decade Out-of-Bounds: Anna Dezeuze (University of Manchester).
1970-1980.
4. 'I'm sort of sliding around in place… ummm…': Art in the 1970s: Sam Gathercole (University of Essex).
1980-1990.
5. Pictures and Positions in the 1980s: Howard Singerman (University of Virginia).
1990-2004.
6. 1990-2004: In the Clutches of Time: Henry M. Sayre (Oregon State University).
Part III: Aesthetics.
Formalism.
7. Form and Formless: Caroline A. Jones (MIT).
Art as Idea.
8. Re-Thinking the 'Duchamp Effect': David Hopkins (University of Glasgow).
Beauty.
9. Regarding Beauty: Margaret Morgan.
Part IV: Politics.
Avant-Garde.
10. Avant-Garde: A Historiography of a Critical Concept: Johanne Lamoureux (Université de Montréal).
Activism.
11. Facture for Change: U.S. Activist Art since 1950: Jennifer González (University of California, Santa Cruz) and Adrienne Posner (University of California, Santa Cruz).
Culture Wars.
12. 'The Senators Were Revolted': Homophobia and the Culture Wars: Jonathan D. Katz (State University of New York at Stony.
Brook).
Art and Its Public(s).
13. Crowds and Connoisseurs: Art and the Public Sphere in America: Grant Kester (University of California, San Diego).
Part V: Identity/ Subjectivity.
The Artist.
14. The Writerly Artist: Beautiful, Boring and Blue: Carol Mavor (University of North Carolina).
Diaspora.
15. Diaspora: Multiple Practices, Multiple Worldviews: Steven Nelson (UCLA).
Feminism.
16.Power and Pleasure: Feminist Art Practice and Theory in the United States and Britain: Laura Meyer (California State University, Fresno).
Queer.
17. Queer Wallpaper: Jennifer Doyle (University of California, Riverside).
Race/ Ethnicity.
18. Ethnicity: Alternative Black Art theories in Contemporary Art: Pauline de Souza (University of East London).
Embodiment.
19. The Paradoxical Bodies of Contemporary Art: Christine Ross (McGill University).
Part VI: Methods/ Theories.
Marxism.
20. A Shadow of Marx: Neil Cummings (Chelsea College of Art and Design) and Marysia Lewandowska(Konstfack, Stockholm).
Poststructuralism.
21. Postructuralism and Contemporary Art, Past, Present, Future…:Sarah Wilson (University of London).
Postcolonial Theory.
22. 'Fragments of Collapsing Space': Postcolonial Theory and Contemporary Art.
Mark Crinson (University of Manchester).
Visual Culture.
23. Visual Culture Studies: Questions of History, Theory, and Practice: Marquard Smith (Kingston University).
Part VII: Technology.
Mass Culture, High/Low.
24. 'That's All Folks': Contemporary Art and Popular Culture: Nick Mirzoeff (New York University).
Photography/Index.
25. Image + Text: Reconsidering Photography in Contemporary Art: Liz Kotz (University of Minnesota).
Spectacle/Appropriation.
26. Imagine There's No Image (It's Easy If You Try): Appropriation in the Age of Digital Reproduction: Dore Bowen (California College of the Arts).
Digital Media.
27. 'Life-like': Historizing Process and Responsiveness in Digital Art: María Fernández (Cornell University).
Index