Adult Orthodontics
ISBN: 978-1-4051-3619-8
408 pages
April 2012, Wiley-Blackwell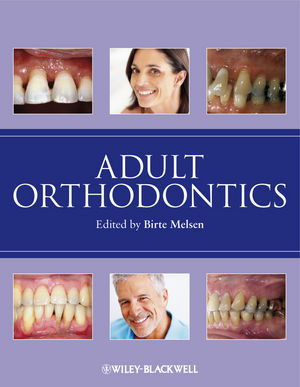 This is a major new work dedicated to the increasingly prominent area of adult orthodontics. Written by renowned contributors from the orthodontic community and beyond, and compiled by a world-class editor, it provides an authoritative resource on the subject, marrying together clinical guidance with a thorough evaluation of the evidence base. The opening chapters provide the context for adult orthodontics, including patient demographics and aetiology, and the book goes on to detail treatment planning considerations, including patient case profiles, suggesting initial outcomes and longer term expectations. Interdisciplinary and multidisciplinary approaches are discussed, including the links between adult orthodontics and periodontics, prosthetics and temporomandibular disorders. The book is accompanied by a website containing further examples of case studies and a wealth of clinical images.
Set to become the gold standard resource on the subject, this book will be invaluable to all those providing orthodontic treatment to adults and those dealing with orthodontics as part of the inter-disciplinary management of the adult dentition.

KEY FEATURES
• A major new work on an expanding area of orthodontic treatment
• Covers patient demographics, aetiology, treatment planning and maintenance issues
• Includes case studies, suggesting realistic and optimal short and long term outcomes
• Highly illustrated with full colour clinical photos
• Accompanied by a website with further material: www.wiley.com/go/melsen
See More
Introduction: More than a Century of Progress in Adult Orthodontic Treatment

1 Potential Adult Orthodontic Patients – Who Are They?
Birte Melsen

2 Diagnosis: Chief Complaint and Problem List
Birte Melsen, Marco A Masioli

3 Aetiology
Birte Melsen

4 Interdisciplinary Versus Multidisciplinary Treatments
Birte Melsen

5 Treatment Planning: The 3D VTO
Birte Melsen, Giorgio Fiorelli

6 Tissue Reaction
Carlalberta Verna, Birte Melsen

7 Appliance Design
Birte Melsen, Giorgio Fiorelli, Delfino Allais, Dimitrios Mavreas

8 Anchorage Problems
Birte Melsen, Carlalberta Verna

9 Bonding Problems Related to Adult Rehabilitated Dentitions
Vittorio Cacciafesta, M Francesca Sfondrini, Carmen Giudice

10 Material-Related Adverse Reactions in Orthodontics
Dorthe Arenholt Bindslev

11 Patients with Periodontal Problems
Birte Melsen

12 A Systematic Approach to the Orthodontic Treatment of Periodontally Involved Anterior Teeth
Jaume Janer

13 Interdisciplinary Collaboration Between Orthodontics and Periodontics
Francesco Milano, Laura Guerra Milano

14 The Link Between Orthodontics and Prosthetics
Yves Samama

15 Patients with Temporomandibular Joint (TMJ) Problems
Birte Melsen

16 Patients with Temporomandibular Disorders
Peter Svensson

17 Invisalign: as Many Answers as Questions
Rainer-Reginald Miethke

18 Progressive Slenderizing Technique
Pablo Echarri

19 Post-Treatment Maintenance
Birte Melsen, Sonil Kalia

20 What are the Limits of Orthodontic Treatment?
Birte Melsen

Index
See More
Birte Melsen is Professor and Head of the Department of Orthodontics; School of Dentistry, Aarhus University in Aarhus, Denmark. She has authored more than 360 publications in the fields of growth, with her recent professional interests focusing primarily on the fields of skeletal anchorage, virtual imaging and adult orthodontic treatment.
See More


First dedicated book on a growing area of orthodontic treatment

World-class Editor accompanied by renowned contributors from the orthodontic community and beyond

Provides case studies, suggesting realistic and optimal outcomes

Reflects inter-disciplinary perspectives

Includes coverage of maintenance issues

Highly illustrated
See More
"This text will be of interest to both the newly qualified orthodontist, beginning to treat adult patients, and the more experienced clinician interested in the evidence base behind treatment philosophies for adults." (European Journal of Orthodontics, 1 October 2013)
"In summary, this is a comprehensive and advanced insight into adult ortho­dontics and one that would be clini­cally relevant for any specialist who is involved in the assessment and manage­ment of complex adult orthodontic cases." (British Dental Journal, 28 September 2013)
"The book should be required reading for every postgraduate orthodontic residency program. In addition, any orthodontist treating adults needs to have this text on hand as an important resource, and any other dental specialist participating in the multidisciplinary treatment of adult cases should read it. I have no doubt that this volume will instill greater confidence among orthodontists and their colleagues when approaching the treatment of adults. We all have been waiting for such a text." (Journal of Clinical Orthodontics, 1 September 2012)
See More