E-book
Bonney's Gynaecological Surgery, 10th Edition
ISBN: 978-1-4051-4013-3
320 pages
April 2008, Wiley-Blackwell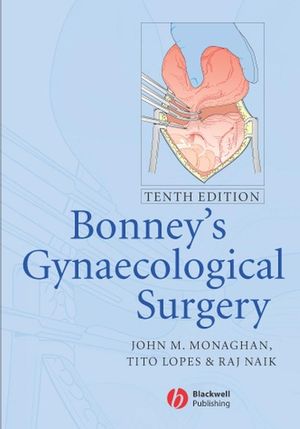 Bonney's Gynaecological Surgery has been a firm favourite for gynaecological surgical practice since it was first published in 1911!
In this new tenth edition, this classic of the medical literature has been extensively revised and expanded by three leading gynaecological oncologists. Specifically tailored for trainees in obstetrics and gynaecology, the text focuses on the most commonly performed procedures. This, the tenth edition carries a renewed emphasis on evidence-based decision making, and includes nine new chapters.

For the first time, the authors take into account the increasing use of laparoscopy in diagnostic and surgical procedures, and cover reconstructive surgery, anaesthesia, information technology and audit, complications and quality assurance. Each chapter follows a consistent plan, guiding the reader through each procedure from anatomy and indications to post-op considerations and complications. The text is also accompanied by surgical illustrations of unparalleled quality, ensuring that this volume will remain a valuable resource for all clinicians specialising in gynaecological surgery.
See More
Preface to the tenth edition.
Preface to the ninth edition.
1. Introduction and Prologue.
2. Instruments, Operative Materials and Basic Surgical Techniques.
3. Patient Assessment, Consent and Preparation for Surgery.
4. Operations on the Cervix.
5. Operations on the Uterine Cavity.
6. Opening and Closing the Abdominal Cavity.
7. Total Abdominal Hysterectomy.
8 Total Hysterectomy for Cervical and Broad Ligament Fibroids.
9. Myomectomy and the Management of Fibroids in Pregnancy.
10. Vaginal Hysterectomy and Radical Vaginal Hysterectomy (Schuata and Coelio Schuata Procedures).
11. Radical Hysterectomy and Pelvic Node Dissection.
12. Pelvic Exenteration.
13. Operations on the Vulva.
14. Operations on the Vagina.
15. Operations for the Correction of Urinary Fistula.
16. Operations for the Correction of Infertility.
17. Laparoscopy and other Minimal Access Surgery.
18. Management of Extrauterine Gestation and Sterilization Procedures.
19. Operations for Benign Ovarian Disease.
20. Operations for Malignant Ovarian Disease.
21. Operations for Urinary Incontinence.
22 Operations for Prolapse of the Uterus and Vagina.
23 Operative Procedures for Therapeutic Abortion.
24. Caesarian Section.
25. The Management of Cancers Complicating Pregnancy.
26. Operations on the Intestinal tract for Gynaecologists.
27. Presacral Neurectomy.
28 The Formation of a Urinary division.
29 The Management of Injuries to the Urinary Tract.
Index
See More
* The standard, classic text since 1911
* Now evidence based

* Unparalelled surgical illustrations

* Now covers both laparoscopic and open surgery

* Includes anaesthetic aspects

* Now includes complications and quality assurance
See More