E-book
Blackwell Handbook of Childhood Cognitive Development
ISBN: 978-1-4051-4298-4
E-book
776 pages
April 2008, Wiley-Blackwell
US $159.99

Purchase This E-book
This price is valid for United States. Change location to view local pricing and availability.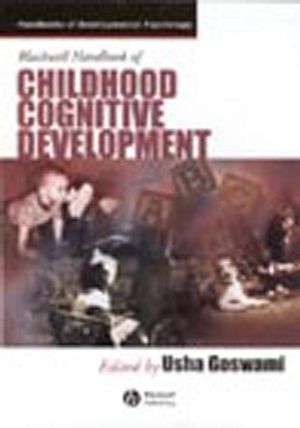 Adobe e-books are read using Adobe Digital Editions. Install Adobe Digital Editions on your PC in order to read or transfer your e-book.
Part I: Infancy: The Origins of Cognitive Development:.
1. Imitation as a Mechanism of Social Cognition:Origins of Empathy, Theory of Mind and the Representation of Action: Andrew Meltzoff (University of Washington, Seattle).
2. The Development of Understanding Self and Agency: György Gergely (Hungarian Academy of Psychology).
3. The Acquisition of Physical Knowledge in Infancy: A Summary in Eight Lessons: Renee Baillargeon (University of Illinois at Urbana-Champaign).
4. Early Categorisation: A New Synthesis: Paul C. Quinn (University of Delaware).
5. Early Word Learning and Conceptual Development: Everything Had a Name, and Each Name Gave Birth to a New Thought: Sandra R. Waxman (Northwestern University).
6. Early Memory Development: Patricia J. Bauer (University of Minnesota).
Part II: Cognitive Development in Early Childhood:.
7. Development of the Animate-Inanimate Distinction: Susan A. Gelman (University of Michigan) and John E. Opfer (Carnegie Mellon University).
8. Understanding the Psychological World: Developing a Theory of Mind: Henry M. Wellman (University of Michigan).
9. Pretend Play and Cognitive Development: Angeline Lillard (University of Virginia).
10. Early Development of the Understanding and Use of Symbolic Artifacts: Judy S. Deloache (University of Virginia).
Part III: Topics in Cognitive Development in Childhood:.
11. Memory Development in Childhood: Wolfgang Schneider (University of Wurzburg).
12. The Development of Causal Reasoning: Barbara Koslowski (Cornell University) and Amy Masnick (Carnegie Mellon University).
13. Inductive and Deductive Reasoning: Usha Goswami (University of Cambridge).
14. The Development of Moral Reasoning: Larry P. Nucci (University of Illinois at Chicago).
15. Spatial Development in Childhood: Where are we now? Lynn S. Liben (Penn State University).
16. Children's Intuitive Physics: Friedrich Wilkening (Universität Zürich) and Susanne Huber (Friedrich-Miescher-Laboratory, Max-Planck-Society).
17. What is Scientific Thinking, and How Does it Develop? Deanna Kuhn (Columbia University).
18. Reading Development and Dyslexia: Margaret J. Snowling (University of York).
19. Children's Understanding of Mathematics: Peter Bryant (University of Oxford) and Terezhina Nunes (Oxford Brookes University).
Part IV: Topics in Atypical Cognitive Development:.
20. Executive Function in Typical and Atypical Development: Philip David Zelazo and Ulrich Müller (both University of Toronto).
21. Language and Cognition: Evidence from Disordered Language: Barbara Dodd and Sharon Crosbie (both University of Newcastle upon Tyne).
22. The Exact Mind: Empathising and Systemising in Autistic Spectrum Conditions: Simon Baron-Cohen, Sally Wheelwright, John Lawson, Rick Griffin, and Jacqueline Hill (all University of Cambridge).
Part V: Models of Cognitive Development:.
23. Piaget's Model: Leslie Smith (University of Lancaster).
24. Vygotsky's Model of Cognitive Development: Shawn M. Rowe and James V. Wertsch (both Washington University in St. Louis).
25. Information Processing Models of Cognitive Development: Graeme S. Halford (University of Queensland).
26. Modelling Typical and Atypical Cognitive Development: Computational Constraints on Mechanisms of Change: Michael S.C. Thomas and Annette Karmiloff-Smith (both Institute of Child Health, University College London).
27. Individual differences in Cognitive Development: Robert J. Sternberg (Yale University)