E-book
Flatfishes: Biology and Exploitation
ISBN: 978-1-4051-4338-7
E-book
416 pages
April 2008, Wiley-Blackwell
US $219.99

Purchase This E-book
This price is valid for United States. Change location to view local pricing and availability.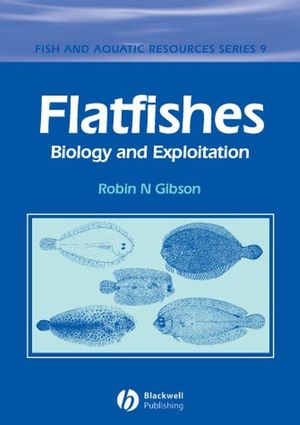 Adobe e-books are read using Adobe Digital Editions. Install Adobe Digital Editions on your PC in order to read or transfer your e-book.
Series Foreword.
Preface.
Acknowledgements.
List of Contributors..
1. Introduction (Robin N. Gibson).
1.1 The fascination of flatfishes.
1.2 A brief history of flatfish research and its contribution to fish biology and fisheries science.
1.3 Scope and contents of the book.
1.4 Nomenclature.
Acknowledgements.
References..
2. Systematic diversity of the Pleuronectiformes (Thomas A. Munroe).
2.1 Introduction.
2.2 Systematic profile of the Pleuronectiformes.
2.3 Intrarelationships of the Pleuronectiformes.
2.4 Brief synopses of the suborders and families.
2.5 Diversity of the Pleuronectiformes.
2.6 Patterns of species diversity among pleuronectiform families.
2.7 Conclusions.
Acknowledgements.
References..
3. Distributions and biogeography (Thomas A. Munroe).
3.1 Introduction.
3.2 Geographic distribution of pleuronectiform lineages.
3.3 Global patterns of species richness for the Pleuronectiformes.
3.4 Species richness in specific environments.
3.5 Historical biogeography..
4. Ecology of reproduction (A.D. Rijnsdorp and P.R. Witthames).
4.1 Introduction.
4.2 Spawning.
4.3 Gonad development.
4.4 Age and size at first maturation.
4.5 Energetics.
4.6 Contaminants and reproduction..
5. The planktonic stages of flatfishes: physical and biological interactions in transport processes (Kevin. M. Bailey, Hideaki Nakata and Henk W. van der Veer).
5.1 Introduction: the problem.
5.2 Flatfish eggs and larvae in the plankton: variations in form and function, time and space.
5.3 Physical mechanisms of transport and retention.
5.4 Adaptations to transport conditions: geographical and species comparisons.
5.5 Transport and population biology..
6. Recruitment (Henk W. van der Veer and William C. Leggett).
6.1 Introduction.
6.2 Range of distribution.
6.3 Average recruitment levels.
6.4 Recruitment variability..
7. Age and growth (Richard D.M. Nash and Audrey J. Geffen).
7.1 Introduction.
7.2 Age estimation.
7.3 Growth of larvae.
7.4 Growth during metamorphosis.
7.5 Growth on nursery grounds.
7.6 Growth of adults.
7.7 Longevity..
8. Ecology of the juvenile and adult stages of flatfishes: distribution and dynamics of habitat associations (Kenneth.W. Able, Melisssa Neuman and Hakan Wennhage).
8.1 Introduction.
8.2 Definitions.
8.3 Distribution and ontogeny.
8.4 Future emphasis..
9. The trophic ecology of flatfishes (Jason S. Link, Michael J. Fogarty and Richard W. Langton).
9.1 Introduction.
9.2 Major flatfish feeding groups.
9.3 Flatfish predators.
9.4 Flatfish competitors.
9.5 Flatfish trophic dynamics: a case study of Georges Bank.
9.6 Summary and conclusions..
10. Behaviour of flatfishes (Robin N. Gibson).
10.1 Introduction.
10.2 Locomotion and related behaviour.
10.3 Colour change.
10.4 Reproduction.
10.5 Feeding.
10.6 Predation and reactions to predators.
10.7 Movements, migrations and rhythms.
10.8 Behaviour in relation to fishing, aquaculture and stock enhancement..
11. Atlantic flatfish fisheries (Richard Millner, StephenJ. Walsh and Juan M. Diaz de Astarloa).
11.1 Introduction.
11.2 Main species and nature of the fisheries.
11.3 History of exploitation.
11.4 Economic importance.
11.5 Management..
12. Pacific flatfish fisheries (Thomas Wilderbuer, Bruce Leaman,, Chang Ik Zhang, Jeff Fargo and Larry Paul).
12.1 Introduction.
12.2 Main species and nature of the fisheries.
12.3 History of exploitation.
12.4 Economic importance.
12.5 Management..
13. Tropical flatfish fisheries (Thomas A. Munroe).
13.1 Introduction.
13.2 Main species and nature of the fisheries.
13.3 History of exploitation.
13.4 Economic importance.
13.5 Management and conservation..
14. Assessment and management of flatfish stocks (Jake Rice, Steven X. Cadrin and William G. Clarke).
14.1 Concepts and terms.
14.2 Population dynamics, assessment and management.
14.3 Assessment and management summary.
14.4 Conclusions..
15. Aquaculture and stock enhancement (B.R. Howell and Y. Yamashita).
15.1 Introduction.
15.2 Hatchery production of larvae and juveniles.
15.3 Intensive farming.
15.4 Stock enhancement.
15.5 Conclusions.
Appendix 1.
Appendix 2.
Index of scientific and common names.
Subject index.