Science Fiction and Philosophy: From Time Travel to Superintelligence
ISBN: 978-1-4051-4907-5
Paperback
368 pages
May 2009, Wiley-Blackwell
US $24.95

Add to Cart
This price is valid for United States. Change location to view local pricing and availability.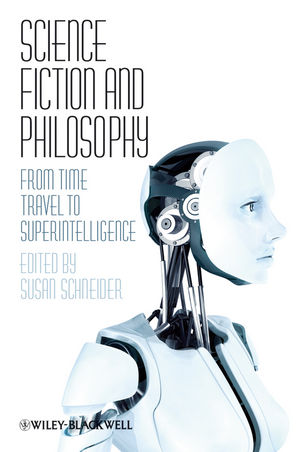 Sources and Acknowledgments
Introduction
Thought Experiments: Science Fiction as a Window into Philosophical Puzzles (Susan Schneider).
Part I: Could I be in a "Matrix" or Computer Simulation? Related Works: The Matrix; Permutation City; The 13th Floor; Vanilla Sky; Total Recall; Animatrix
1. Brain in a Vat (John Pollock).
2. Are You In a Computer Simulation (Nick Bostrom).
3. Excerpt from The Republic Plato
4. Excerpt from The Meditations on First Philosophy (René Descartes).
5. The Matrix as Metaphysics (David J. Chalmers).
Part II: What Am I? Free Will and the Nature of Persons Related Works: Software; Star Trek, The Next Generation: Second Chances; Mindscan; The Matrix; Minority Report
6. Where Am I (Daniel C. Dennett).
7. Personal Identity (Eric Olson).
8. Divided Minds and the Nature of Persons (Derek Parfit).
9. Who Am I? What Am I (Ray Kurzweil).
10. Free Will and Determinism in the World of Minority Report (Michael Huemer).
11. Excerpt from "The Book of Life: A Thought Experiment" (Alvin I. Goldman).
Part III: Mind: Natural, Artificial, Hybrid, and "Super" Related Works: 2001; Blade Runner; AI; Frankenstein; Terminator; I, Robot
12. Robot Dreams (Isaac Asimov).
13. A Brain Speaks (Andy Clark).
14. The Mind as the Software of the Brain (Ned Block).
15. Cyborgs Unplugged (Andy Clark).
16. Consciousness in Human and Robot Minds (Daniel C. Dennett).
17. Superintelligence and Singularity (Ray Kurzweil).
Part IV: Ethical and Political Issues Related Works: Brave New World; Gattaca; Terminator; White Plague
18. The Man on the Moon (George J. Annas).
19. Mindscan: Transcending and Enhancing the Human (Brain Susan Schneider).
20. The Doomsday Argument (John Leslie).
21. Asimov's "Three Laws of Robotics" and Machine Metaethics (Susan Leigh Anderson).
22. Ethical Issues in Advanced Artificial Intelligence (Nick Bostrom).
Part V: Space and Time Related Works: Twelve Monkeys; Slaughterhouse Five; The Time Machine; Back to the Future; Flatland: A Romance in Many Dimensions
23. A Sound of Thunder (Ray Bradbury).
24. Time (Theodore Sider).
25. The Paradoxes of Time Travel (David Lewis).
26. The Quantum Physics of Time Travel (David Deutsch and Michael Lockwood).
27. Miracles and Wonders: Science Fiction as Epistemology (Richard Hanley).
Index