Textbook
Reading Development and Difficulties
ISBN: 978-1-4051-5155-9
272 pages
June 2010, ©2010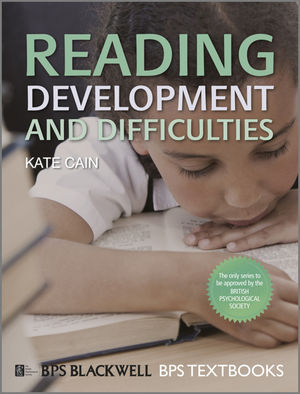 This accessible text brings together research on word reading and comprehension development, which are often treated separately, and provides a comprehensive and detailed introductory text to reading development and difficulties.
Key features include:


An introduction to the important issues in reading research and the skills involved in reading words and understanding text, from the point of view of both a beginner and a skilled reader

A consideration of the similarities and differences between written and spoken language, and the advantages and disadvantages of different methodological approaches

An examination of how failures in reading comprehension skills can create difficulties and disorders

A consideration of the implications of this research for the teaching of reading and the diagnosis and treatment of reading difficulties
This text will be useful to many different groups of readers, not only researchers and students in psychology but also those who work in more applied settings, such as students in education and speech and language therapy, who may have a limited background knowledge of the psychology of reading.
See More
Preface xi
1 Introduction to the study of reading 1
What is reading? 2
The relationship between written and spoken language 4
How to study reading development and reading difficulties 14
Overview of the rest of this book 20
2 Skilled word reading 25
Word reading: Assessment and sources of variation 26
Models of skilled word recognition 36
3 The skilled comprehender 47
What do we forget and what do we remember? 48
Local and global coherence 52
Models of text representation 59
4 Learning to read words 67
Ways to read words 68
Skills and knowledge that aid word reading development 74
Phases of word reading development 81
What drives word reading development? 85
5 The development of reading comprehension 95
The relations between word reading, listening comprehension and reading comprehension 96
Skills and knowledge that support reading comprehension 99
Reading comprehension development 112
6 Developmental dyslexia 121
Developmental dyslexia: Definitions and characteristics 122
Theories of dyslexia 126
A look at subtypes: Are all dyslexic children the same or do different types of dyslexic exist? 134
Dyslexia across the lifespan: Precursors, compensation and consequences 140
7 Reading comprehension difficulties 147
What is poor reading comprehension? 148
Sources of discourse comprehension failure 153
Causes of discourse comprehension failure 164
The consequences of poor discourse comprehension 166
8 Instruction and intervention 171
Instruction and interventions for word reading 172
Instruction and interventions for reading comprehension 179
Support and instruction for reading development 185
9 The assessment of reading 191
Assessment matters 192
Word reading assessment: What, when and how? 196
The assessment of reading comprehension: What, when and how? 201
10 The Simple View of Reading: A framework for the study of reading development and reading difficulties 213
The Simple View of Reading: A brief overview 214
The Simple View of Reading and reading development 215
The Simple View of Reading and reading difficulties 218
The Simple View of Reading: An evaluation 219
Reading development and reading difficulties: Implications 220
Conclusions 221
Bibliography 223
Glossary 247
Index 253
See More
Kate Cain, D.Phil., is a Reader in the Department of Psychology at Lancaster University. Her research focuses on the development of language comprehension in children and she has a particular interest in the cognitive and language-related skill deficits that lead to comprehension problems. To date, she has published widely on language and reading development in journals such as Journal of Educational Psychology, Journal of Experimental Child Psychology, and Journal of Speech, Language, and Hearing Research, and has written 15 book chapters and co-edited Children's Comprehension Problems in Oral and Written Language: a Cognitive Perspective (with Jane Oakhill, 2007). She is Associate Editor for the International Journal of Language and Communication Disorders and the Journal of Research in Reading.
See More
"Intended for undergraduates studying literacy acquisition and for professionals with no previous background in reading development or difficulties, Cain provides a balanced, comprehensive, accessible introduction to the development of the two core aspects of reading - good word-reading skills and the ability to extract the overall meaning of a text." (Higher Times Education, November 2010)


See More
"This is a scholarly textbook which should become essential reading for psychologists, educationalists and speech and language therapists. Kate Cain has an ability to present very complex issues with a degree of clarity that ensures the reader comes to a deep understanding of the issues and quality of the scientific evidence that she presents for analysis."

Professor Rhona Stainthorp, Institute of Education, University of Reading
"Kate Cain's valuable account of the psychology of learning to read is clear, incisive and always interesting. It tells us how children learn to decipher single words and to read whole sentences, and also how they are eventually able to co-ordinate the meanings of several, different sentences in order to understand quite complicated texts."
Peter Bryant, Senior Research Fellow, Department of Education, Oxford University
See More
Instructors Resources
Contact your Wiley Representative
Find Your Rep

See More
See Less
More in this series