E-book
A Practical Guide to the Wiring Regulations, 3rd Edition
ISBN: 978-1-4051-5183-2
576 pages
April 2008, Wiley-Blackwell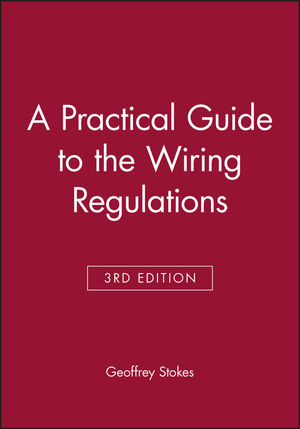 This book provides a thorough, practical guide to the Wiring Regulations BS 7671 : 2001. It features in particular:
? worked design examples

? extensive tabular material and checklists

? numerous illustrations

? particular attention to the subjects of inspection, testing, verification, certification and reporting

? NICEIC specimen certificates and other forms

? guidance on specialised installations
The Third Edition has been updated to take account of the 2001 amendments to the Wiring Regulations, including revisions on:
- protection against overcurrent

- isolation and switching

- zoning requirements for locations containing a bath or shower

- construction site installations

- highway power supplies and street furniture and equipment
See More
Plan and terminology of BE 7671: 1992; Electricity, the law, standards and codes of practice; Scope, object and effects and fundamental requirements for safety; Assessment of general characteristics; Protection against electric shock; Protection against thermal effects; Protection against overcurrent and undervoltage; Isolation and switching; Equipment selection - common rules; Wiring systems; Switchgear, protective devices and other equipment; Protective conductors, earthing and equipotential bonding; Specialised installations; Supplies for safety services; The smaller installation; Special installations and locations; Inspection, testing, certification and reporting; Indexes.
See More
* revised to include the latest Wiring Regulations
* features extensive tabular material, checklists and worked design examples
* highly illustrated
* includes specimen certificates and standard forms
See More