Textbook
Digital Universe: The Global Telecommunication Revolution
ISBN: 978-1-4051-5330-0
288 pages
February 2012, ©2012, Wiley-Blackwell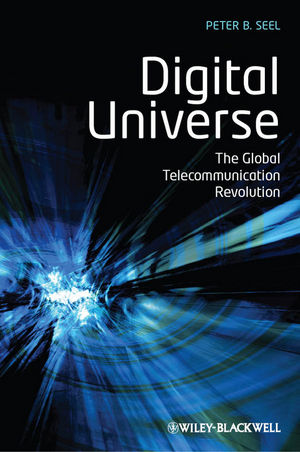 For the student and general reader, a tour of the digital universe that offers critical observations and new perspectives on human communication and intelligence.
Traces the development and diffusion of digital information and communication technologies, providing an analysis of trans-cultural effects among developed and developing nations
Provides a balanced analysis of the pros and cons of the adoption and diffusion of digital technologies
Explores privacy, censorship, the digital divide, online games, and virtual and augmented realities
Follows a thematic structure, allowing readers to access the text at any point, based on their interests
Accompanying resources provide a wealth of related online content
Selected by Choice as a 2013 Outstanding Academic Title
See More
Preface vii
Acknowledgments ix
Some Key Terms xi
Part I Introduction and Framing 1
1 The Digital Universe: A "Quick-Start" Introduction 3
2 Thinking About Moore's Law 14
3 Critical Perspectives 25
Part II Internet and Web History 41
4 Origins of the Internet 43
5 Internet Evolution 64
6 The Web 82
Part III Telecommunication and Media Convergence 103
7 Telecommunication and the "Flat" World 105
8 Digital Media Convergence 127
Part IV Internet Control, Cyberculture, and Dystopian Views 143
9 The Public and Private Internet 145
10 Censorship and Global Cyberculture 168
11 The Dark Side 186
Part V New Communication Technologies and the Future 205
12 Wired and Wireless Technologies 207
13 Virtual and Augmented Worlds 226
14 The Future of the Digital Universe 253
Index 270
See More
Peter B. Seel is a professor in the Department of Journalism and Technical Communication at Colorado State University, where he teaches new communication technologies, video production, digital photography, and documentary film. Dr. Seel is the co-author of two books and many articles on digital television and new media technologies.
See More
Analyzes the effect of digital technology in the developed and developing world

Examines Moore's Law and its relation to all areas of digital technology

Describes media convergence on digital platforms

Contains interviews with global experts on the social effects of digital technology
See More
Named CHOICE Outstanding Title for 2012

"There are some really nice touches in this book. It is well written. The cases are accessible and relevant. The tables, lists, and some of the figures lucidly present taxonomies and provide chronological information on important topics."  (International Journal of Communication, 1 August 2012)
"Summing Up: Highly recommended.  All readership levels.  (Choice, 1 August 2012)
"Digital Universe takes the reader into the lives and labs of the pioneers of communication technology, helping us understand the struggles, unexpected successes & failures, and the connections among technologies. This book provides one of the richest sets of technology histories that have been compiled into a single volume.
-
August Grant, University of South Carolina
"In his ground-breaking new book, Peter B. Seel humanizes the story of telecommunication technology and its consequences.  Providing a global perspective, Digital Universe thoughtfully examines the social impact of information and communication technologies from YouTube to augmented reality."
- John V. Pavlik, Rutgers University
See More
Instructors Resources
Contact your Wiley Representative
Find Your Rep

See More
See Less