The Complete Archaeology of Greece: From Hunter-Gatherers to the 20th Century A.D.
ISBN: 978-1-4051-5418-5
Hardcover
544 pages
May 2012, Wiley-Blackwell
US $149.95

Add to Cart
This price is valid for United States. Change location to view local pricing and availability.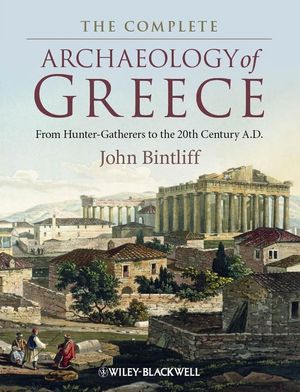 "For others, however, The complete archaeology of Greeceis a valuable source of information, drawing a broad canvas, and, most significantly, exposing important questions concerning each period. . . Bintliff's book is a generous reciprocation of Greek Philoxenia, a distillation of his long experience of Greek archaeology in the field, this theoretical positions and methodological tools, reaching out further than to the people of Greece alone." (Antiquity, 1 January 2013)
'Named CHOICE Outstanding Title for 2012

"Summing Up: Recommended. All readers." (Choice, 1 November 2012)
"Bintliff's newest contribution provides an ambitious panorama of Greek archaeology . . . Bintliff's book does more than any other major survey of Greek history or archaeology to bring the rural economy into the larger narrative of later Greek history." (The New Archaeology of the Mediterranean World, 1 September 2012)
"By doing that he has delivered a brilliant survey of Greek archaeology and a remarkably succinct and comprehensive volume – a must read for anyone interested in the archaeology of Greece." (The Anglo-Hellenic Review, 1 October 2012)
"It doesn't get much more comprehensive than this." (Corinthianmatters.com, 2 May 2012)
"For once a book that does not oversell itself! Bintliff's book is not just The Complete Archaeology of Greece, but is the first overview that is complete. Born from a lifetime of experience in regional studies in Greece, it is an impressive accomplishment that respects the material culture of all periods of the Hellenic past."
-
Jack Davis, American School of Classical Studies, Athens
"A stunning panoramic review of the archaeology of the Greek world from prehistory to the end of Ottoman rule. The volume offers a theoretically-sophisticated, methodologically challenging and intellectually stimulating survey which will be a must-read for all interested in the archaeology of the area."
- John Haldon, Princeton University
"A bold, ambitious and perhaps controversial work…it ranges from deep prehistory to modern times, encompassing Minoans, Mycenaeans, the Classical world, Byzantium and the Ottoman empire along its course. Building on a lifetime's experience, Bintliff has produced a tour de force which will, I predict, have many critics but very few rivals."
- Colin Renfrew, Cambridge University