A Colour Handbook of Heart Failure
ISBN: 978-1-4051-5829-9
144 pages
May 2006, Wiley-Blackwell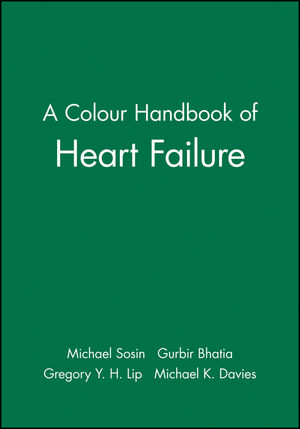 Using a strong evidence-based approach, the authors aim to present a detailed overview of the syndrome of heart failure. They cover diagnosis, investigation and treatment options and includes a special chapter for primary care. The text is fully illustrated in color with photos, radiographic images, diagrams, electrocardiograms and echocardiograms. A practical reference source and an educational support, this book is of interest to cardiologists and general physicians in training, as well as senior med students.
See More
Chapter 1. Epidemiology.
Chapter 2. Clinical Features.
Chapter 3. Pathophysiology.
Chapter 4. Investigations.
Chapter 5. Drugs Affecting the Renin-Agiotensin-Aldosterone System & Diuretics.
Chapter 6. Beta blockers and Inotropes.
Chapter 7. Other Vasodilators: Nitrates & Calcium Channel Blockers.
Chapter 8. Antiarrhythmic and Antithrombotic Therapy in Heart Failure.
Chapter 9. Non Pharmacological Therapies for Heart Failure.
Chapter 10. Heart Failure in General Practice.
Chapter 11. The Future of Heart Failure Managment.
Appendices.
Index
See More