Skin Cancer: Recognition and Management, 2nd Edition
ISBN: 978-1-4051-5961-6
Hardcover
536 pages
February 2008, Wiley-Blackwell
US $240.95

Add to Cart
This price is valid for United States. Change location to view local pricing and availability.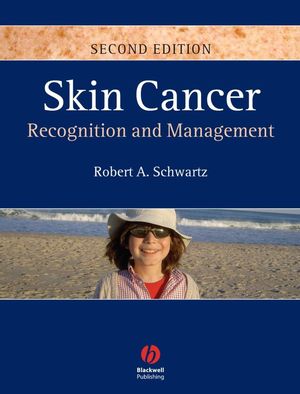 Other Available Formats:
E-book
2nd Edition
"A superb group of contributors from Europe and North America join [Schwartz] in this text. The overall result is a concise compendium of current knowledge about skin cancers of all sorts. The book is nicely illustrated with beautiful color pictures and is extensively referenced. The material is up to date and comprehensive." (American Society for Dermatologic Surgery) 
"Fully revised and expanded, this new edition now includes full colour photographs and illustrations throughout to aid recognition and diagnosis, and covers the latest developments and treatment modalities. This is a very good introductory book for dermatology residents and medical students taking their dermatology elective. The basic principles of treatment and diagnosis of skin cancer are covered in a clear and concise manner. The information is well organized and presented in an easy to understand format." (Doodys Book Reviews, December 2008)

"The revised and expanded edition includes premalignant and malignant skin disorders including dermoscopy, a noninvasive technique for the evaluation of pigmented lesions of the skin and mucosa. Considering that skin cancer is doubling every 15 to 20 years worldwide this is a timely update. Among Hispanic men in California a melanoma epidemic is occurring, evidenced by a 1.8% annual increase in the incidence of invasive melanomas." (E-Streams, September 2008)
Praise for the previous edition:

"This book, in encyclopedic detail, is well written, lucid and easy to read. The chapters dealing with various skin cancers are distinguished by their depth, clarity and variety of clinical photographs. This book is a must for all physicians who are serious about recognizing and treating skin cancer." (American Family Physician)
"...and excellent review of the presentation and pathology of the common and uncommon cutaneous malignancies." (Annals of the Royal College of Surgeons)
"...copious references at the end of each chapter...a comprehensive chapter on skin tumour pathology...of great interest to those who are committed to the field." (British Journal of Dermatology)
"...a handy sized reference on an important and common problem." (Cancer Forum)
"...a comprehensive and detailed overview about the management of cuntaneous malignancies...the book can be recommended without any restriction to dermatologists, pathologists, oncologists and to all physicians who are faced with skin deiseases." (Experimental Pathology)
"...Dr Schwartz has enormous experience of the subject...This would be an excellent book both for trainee dermatologists and any medical practitioner with an interest in skin cancer. It should be available for reference in any medical library." (Pathology)
"...many nondermatologists are becoming actively involved in screening and treatment - making this second edition of Skin Cancer: Recognition and Management timely and useful." 
–Larry Millikan MD in JAMA, September 3, 2008