Textbook
Christianities in Asia
ISBN: 978-1-4051-6090-2
Paperback
288 pages
December 2010, ©2010, Wiley-Blackwell
US $39.95

Add to Cart
This price is valid for United States. Change location to view local pricing and availability.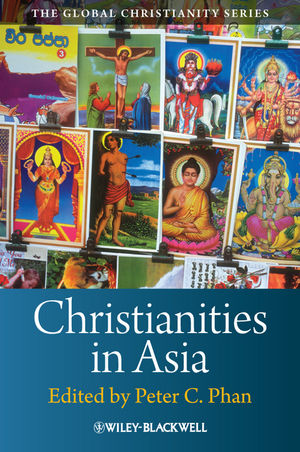 "These praiseworthy books from Bays and Phan will enhance
their readers' understanding of the manifold Christianities of China and Asia as well as of the global history of east-west relations." (Journal of Ecclesiastical History, 1 January 2013)

"A stimulating and wide-ranging collection of often valuable introductions. There are also new insights in a range of settings, for student and scholar alike." (Asia Journal of Theology (vol. 26 no. 1, 2012)


"Christianities in Asia is intended to be an accessible book on this subject. . . But overall, the book fulfils its function as an introduction to the various forms of Christianity in Asia." (Swedish Missiological Themes, 2011)
"Leading off an impressive new Blackwell series on global Christianity, Christianities in Asia is a rich collection of essays on various regions by top-ranked names in the field." (The Christian Century, 7 October 2011)
"This is a fascinating book, which corrects our Eurocentric under - stand ing of the earliest Church and what happened during the later missionary eras." (Church Times, 1 June 2011)
"As an introductory text, this volume sets a standard for the field that will not soon be surpassed. Essential. Lower-lever undergraduates through professional/practitioners." (Choice, 1 May 2011)
"Christianities In Asia gives a wonderful sampling of essays written by Asian theologians who present the ide variety of Christianities currently in existence in Asia. Eleven theologians take on the arduous task of presenting the history, the current context, and the practices of Christianity within their own respective countries . . . nevertheless, as it stands, this book will prove invaluable for generations to come as it lays out the historical, social and political identity of Asia, which is imperative to understand Asian Christianity and by relation, the Christianity of the West." (Studies in Religion, 1 May 2011)
"Scholars of religion, some in the country or region they cover, and some in the West, explore Christianity not as it has been imposed in Asia through Western missions, but as it has been received and transformed into local or contextualized Christianities, with their own ecclesiastical structures, liturgy and prayers, spirituality, theology, art and architecture, music and song, dance, and other elements. Among the countries and groupings are India, Pakistan, Bangladesh, and Burma/Myanmar; Sri Lanka; Malaysia and Singapore; Vietnam, Cambodia, Laos, and Thailand; Taiwan, Hong Kong, and Macao; South Korea; and the Middle East. They survey is intended to be accessible to nonspecialists and general readers." (Book News Inc., February 2011)
"
Christianities in Asia
is an outstanding introduction to the complex reality of this living religion spread across the largest continent on earth where two-thirds of humanity dwells today. Each chapter is comprehensive and engaging. The organization of the work as a whole allows the reader to see the diversity of Asian Christianities without losing sight of the commonalities that bind them together both institutionally and as a movement. The book offers a host of new insights while opening up important new directions in the study of world Christianity at the local, regional, and global levels."
—
Dale T. Irvin
, President and Professor of World Christianity, New York Theological Seminary
"Phan and his colleagues have produced what will surely be the standard introductory text to the topic for the next decade. There are plenty of details for those interested in them, but as important is how the book as a whole invites readers to experience the richness and diversity of the Christianities of Asia. An invaluable resource for the emerging field of world Christianity!"
—Amos Yong, Regent University