Lost and Philosophy: The Island Has Its Reasons
ISBN: 978-1-4051-6315-6
Paperback
288 pages
November 2007, Wiley-Blackwell
US $25.95

Add to Cart
This price is valid for United States. Change location to view local pricing and availability.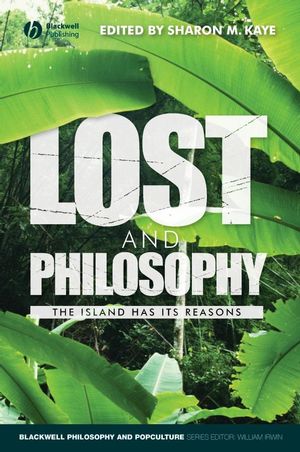 Lost and Philosophy.
Introduction: L.O.S.T. in Lost: Sharon Kaye (John Carroll University).
Part I. 'L' is for Love.
1. What Do Jack and Locke Owe their Fathers?: Michael W. Austin (Eastern Kentucky University).
2. Saving Walt: Frameworks for Evaluating Action: Rebecca Vartabedian (Metropolitan State College of Denver).
3. Moral Stand-offs: Objectification on Lost: Robert Arp (Southwest Minnesota State University) and Patricia Brace (Southwest Minnesota State University).
4. Research Ethics and the Dharma Initiative: Deborah R. Barnbaum (Kent State University).
5. The Island of Ethical Subjectivism: Not the Paradise of Lost: George Wrisley (University of Iowa).
Part II. 'O' is for Origin.
6. Meaning and Freedom on the Island: Sander Lee (Keene State College).
7. What Would You Do?: Altered States in Lost: Charles Taliaferro (St. Olaf College) and Dan Kastrul (Chez Nous, Inc.).
8. Reinvention and Second Nature in Lost: Charles Girard (Universite Paris 1) and David Meulemans (Aix Marseille Universite).
9. Lost, The Third Policeman, and Guerilla Ontology: Jessica Engelking (University of Iowa).
10. Lost in Codes: Interpretation and Deconstruction in Lost's Narrative: Tom Grimwood (Lancaster University).
Part III. 'S' is for Survival.
11. No Exit …from the Island: A Sartrean Analysis of Lost: Sandra Bonetto (University College Dublin).
12. "The Others Are Coming": Ideology and Otherness in Lost: Karen Gaffney (Raritan Valley Community College).
13. Tortured Souls: Scott Parker (Portland State University).
14. Friends and Enemies in the State of Nature: The Absence of Hobbes and the Presence of Schmitt?: Peter S. Fosl (Transylvania University).
15. Lost's State of Nature: Richard Davies (University of Bergamo).
16. From Daniel Defoe to J.J. Abrams: Lost and Island Survivor Fiction: Paul Heyer (Wilfrid Laurier University).
Part IV. 'T' is for Transformation.
17. The Tao of John Locke: Shai Biderman (Boston University) and William Devlin (Boston University).
18. Of Moths and Men: Paths of Redemption on the Island of Second Chances: Brett Chandler Patterson (Anderson University).
19. Everything Happens for a Reason: David Werther (University of Wisconsin, Madison).
20. "Don't mistake coincidence for fate": Lost Theories and Coincidence: Briony Addey (University of Bristol).
21. Aquinas and Rose on Faith and Reason: Daniel B. Gallagher (Sacred Heart Major Seminary).
22. Lost and the Problem of Life after Birth: Jeremy Barris (Marshall University).