Textbook
Psychology in Social Context: Issues and Debates
ISBN: 978-1-4051-6823-6
Paperback
296 pages
May 2011, ©2011, Wiley-Blackwell
US $46.95

Add to Cart
This price is valid for United States. Change location to view local pricing and availability.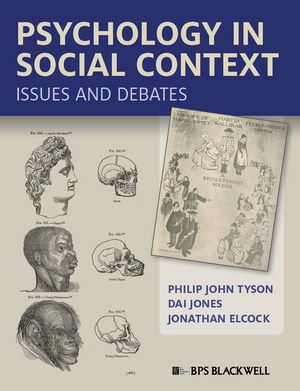 "These issues aside, this is a compelling and wide-ranging book that encourages the reader to look for the moral values and cultural assumptions at the heart of the apparently unbiased science that is psychology." (The Psychologist, 1 November 2011)
"Presenting important ideas about the ways that psychologists view the knowledge they generate, this book would be a good companion to a textbook based on the conventional hypothetical-deductive model of research. Recommended. Lower-division undergraduates through faculty." (Choice, 1 October 2011)
Psychology in Social Context
is a book that should be compulsory reading for all psychology undergraduates. However you define psychology, it is a discipline that is rooted in a social context with traditional underlying philosophical assumptions about how behaviour should be defined and explained. This book brings these important and much overlooked issues to life and will challenge students to think more deeply about many of the features of their psychology courses that both they – and their teachers – often take for granted.
—
Graham C.L. Davey
, Professor of Psychology, University of Sussex, UK
I wish Psychology in Social Context: Issues and Debates had been available long ago. This thought-provoking book is a useful corrective to traditional texts that, with little regard for psychology's sociopolitical context, misrepresent the discipline's conventional ways of doing things as inexorably leading in positive directions. But rather than reject psychology as hopelessly irredeemable, Psychology in Social Context offers a constructive overview of the bottom line: students who understand psychology's historical and cultural trajectory can think more critically about the field's mainstream norms, learning to sort out when traditional approaches might be merely habitual rather than appropriate and useful, and when alternatives might make more sense. The book's clear and engaging descriptions of controversial issues will generate animated classroom discussion in traditional introductory or social psychology courses as well as in critical psychology.
—Dennis Fox, Emeritus Associate Professor of Legal Studies & Psychology, University of Illinois, USA
Informed by the latest conceptual and historical scholarship, Psychology in Social Context: Issues and Debates is an astute examination of a clutch of problems and controversies that derive from the recognition that Psychology is saturated with ethical values, social ambitions and political agendas. This radical yet accessible text has the potential to inspire an entire generation of psychologists into rethinking the processes they employ to develop practice and generate knowledge.
—Geoff Bunn, Chair, BPS History & Philosophy of Psychology Section, Manchester Metropolitan University, UK