The Shadow of War: Russia and the USSR, 1941 to the present
ISBN: 978-1-4051-6959-2
Hardcover
392 pages
August 2010, Wiley-Blackwell
US $115.95

Add to Cart
This price is valid for United States. Change location to view local pricing and availability.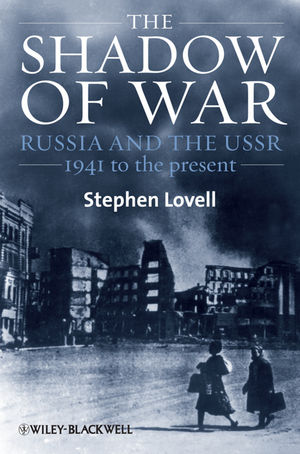 "Lovell, in particular, has written an accomplished and stimulating book." (European History Quarterly, 2012)
"There are different ways to write a survey of Russian history, and most of them have been tried many times. Yet Simon Dixon, the editor of this excellent three-volume series, has invited his authors to do something new." (Slavonic and East European Review, 1 April 2012)
"Stephen Lovell's The Shadow of War is a work of a different kind: a textbook which should appeal also to a general readership. It is both a social and political history and provides an excellent synthesis of the Russian experience from the Second World War to the present." (History Today, 1 August 2011)
"Shadow of War is an astute topical approach to Soviet/Russian history from 1941 to the beginnings of the Medvedev presidency in 2008. Its clarity and first-rate scholarship make it exceptionally enlightening on major socioeconomic and national conditions and post-Soviet matters generally." (Michigan War Studies Review, November 2010)
"For Russians the Second World War was one of both national liberation and imperial expansion; it was also the dominant memory in the lives of three generations of Soviet citizens. Lovell's decision to take it as his starting point enables him to shine an innovative and penetrating light on many aspects of Soviet and Post-Soviet Russia often ignored in general studies. This is a very valuable book for those seeking to understand today's Russia."
—
Geoffrey Hosking
, Emeritus Professor, University College London
"An extremely sure-footed and gracefully written interpretation of the last sixty years of Soviet/Russian history. Lovell exhibits much razor-sharp wit and insight, although almost never at the expense of his subjects. He views Soviet leaders and ordinary citizens from the standpoint of a western observer, but also steps back to observe himself observing his subjects, a perspective all too rare in textbooks."
—Lewis Siegelbaum, Michigan State University