A Brief History of Liberty
ISBN: 978-1-4051-7079-6
Paperback
280 pages
February 2010, Wiley-Blackwell
US $34.95

Add to Cart
This price is valid for United States. Change location to view local pricing and availability.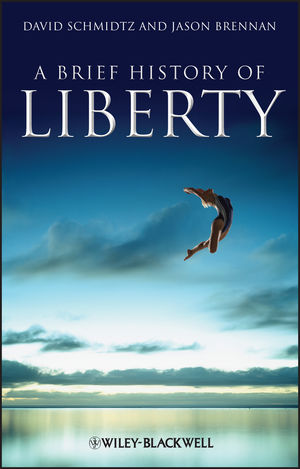 February 03, 2010
A Brief History of Liberty
Connect with Wiley Publicity
Liberty is a lofty and noble concept. But what exactly is liberty? What value does it have? And what specific benefits and dangers are inherent in so-called free societies? In A BRIEF HISTORY OF LIBERTY (March 2010 (U.S.); January 2010 (UK)) David Schmidtz and Jason Brennan recall the history of human liberty in all its forms: legal, cultural, political, economic, religious, and psychological.
Compared to our ancestors, for whom starvation, war, and deadly disease were the stuff of everyday life, our most daunting struggle for liberty today is often psychological. Instead of considering ourselves free, the authors say we are "adept at snatching defeat from the jaws of victory," and are shackled by social and professional pressure, self-deception, and discontent (Chapter 6: Psychological Freedom, The Last Frontier: 1963). History has a lot to teach us about personal freedom: getting it, maintaining it, and learning from it so we have more of a real choice when it comes to pursuing liberty in its truest form.
The authors distinguish between being "free to" pursue happiness (positive freedom), as opposed to being "free from" oppression, slavery, or hunger (negative freedom), yet stress that, "this is a history of liberty, not a history of theorizing about liberty."
A key turning point in our pursuit of freedom occurred when homo sapiens gained the capacities for trade and, more fundamentally, speech, while the Neanderthals failed to develop these skills and perished as a consequence. Human trade become so developed that by the 12th century we embarked on spiritual trading, the idea that one could avoid purgatory through prayers and good works. Martin Luther (and later John Knox) challenged this type of thinking in the early 16th century and strove to "break the Catholic monopoly on faith." (Chapter 3: Religious Freedom: 1517)

The authors explain that cultural change sets the stage for heroic individual catalysts and the authors vividly recall their stories. Roger Williams fled London for Boston in 1630, and later founded a colony (Rhode Island) built on the principle of the freedom of religion, which would later inspire the First Amendment of the US Constitution. The groundwork laid by civil rights' founding fathers such as Frederick Douglass, Booker T. Washington, W. E.B. Dubois (NAACP), Martin Luther King, and Thurgood Marshall (Brown v. Board of Education) led to the Civil Rights Act of 1964(Chapter 5: Civil Liberty: 1954).
The authors explore the institutions that promote liberty and how governments become tyrannical (French Revolution; KGB). The rule of law was established in 10th century England to keep the peace and limit the king's power to tax. Economic liberty, explored in depth by Scottish thinker Adam Smith, is increasingly present in today's society. Khrushchev became incredulous at the opulence of the common American house in 1959 during a visit with Nixon. The authors point out, "In constant dollars, the United States today has an economic output that is about fifty percent greater than the entire world's output in 1950." (Chapter 4: Freedom of Commerce: 1776)
Above all, the authors ask the question: "Is the greatest freedom the absence of want or desire?" Roosevelt defined his dream for the American people as, "Freedom from want." The authors conclude that what we really want is freedom with real choice, having options and the autonomy to fully exercise them.
Buy Both and Save 25%!
A Brief History of Liberty (US $34.95)
-and- A Brief History of Justice (US $31.95)
Total List Price: US $66.90
Discounted Price: US $50.17 (Save: US $16.73)
Cannot be combined with any other offers. Learn more.