Museum Studies: An Anthology of Contexts, 2nd Edition
ISBN: 978-1-4051-7381-0
Paperback
680 pages
April 2012, Wiley-Blackwell
US $62.95

Add to Cart
This price is valid for United States. Change location to view local pricing and availability.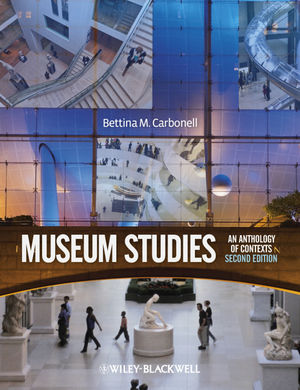 Alternative Taxonomy xi
Notes on Contributors xvi
Acknowledgments xxiv
Introduction to the Second Edition: Museum/Studies and the "Eccentric Space" of an Anthology – Revisited 1
Bettina M. Carbonell
Part I Museology: A Collection of Contexts 15
Introduction 15
1 From The Museum Age: Foreword 19
Germain Bazin
2 The Museum: Its Classical Etymology and Renaissance Genealogy 23
Paula Findlen
3 The Universal Survey Museum 46
Carol Duncan and Alan Wallach
4 Seeing Through Solidity: A Feminist Perspective on Museums 62
Gaby Porter
5 Universal Museums, Museum Objects and Repatriation: The Tangled Stories of Things 73
Neil G.W. Curtis
6 Narrativity and the Museological Myths of Nationality 82
Donald Preziosi
7 Museums, Civic Life, and the Educative Force of Remembrance 92
Roger I. Simon
8 The Memorial Museum Identity Complex: Victimhood, Culpability, and Responsibility 97
Paul Williams
9 At The Holocaust Museum 116
Alice Friman
Part II States of "Nature" in the Museum: Natural History, Anthropology, Ethnology 117
Introduction 117
10 To the Citizens of the United States of America 123
Charles Willson Peale
11 Letter of 1863 to Mr. Thomas G. Cary 125
Louis Agassiz
12 Museums of Ethnology and Their Classification 126
Franz Boas
13 "Magnificent Intentions": Washington, D.C., and American Anthropology in 1846 129
Curtis M. Hinsley, Jr.
14 From Natural History to Science: Display and the Transformation of American Museums of Science and Nature 142
Karen A. Rader and Victoria E. M. Cain
15 The Development of Ethnological Museums 158
Robert Goldwater
16 Ethnology: A Science on Display 163
Fabrice Grognet
17 Ambiguous Messages and Ironic Twists: Into the Heart of Africa and The Other Museum 168
Enid Schildkrout
18 Thinking and Doing Otherwise: Anthropological Theory in Exhibitionary Practice 177
Mary Bouquet
19 The Mirror and the Tomb: Africa, Museums, and Memory 189
Françoise Lionnet
20 From Ethnology to Heritage: The Role of the Museum 199
Barbara Kirshenblatt-Gimblett
21 The Pitt-Rivers Museum, Oxford 206
James Fenton
Part III The Status of Nations and the Museum 209
Introduction 209
22 From On the Museum of Art: An Address 213
J. C. Robinson
23 Presidential Address to the Museums Association, Maidstone Meeting, 1909 218
Henry Balfour
24 Addresses on the Occasion of the Opening of the American Wing, The Metropolitan Museum of Art, New York (November 10, 1924) 225
Robert W. de Forest, Grosvenor Atterbury, and Elihu Root
25 The Architectural Museum from World's Fair to Restoration Village 230
Edward N. Kaufman
26 Melodrama, Pantomime or Portrayal?: Representing Ourselves and the British Past through Exhibitions in History Museums 244
Gaynor Kavanagh
27 Artifacts as Expressions of Society and Culture: Subversive Genealogy and the Value of History 250
Mark P. Leone and Barbara J. Little
28 Museums and the Formation of National and Cultural Identities 260
Annie E. Coombes
29 Museums, National, Postnational and Transcultural Identities 273
Sharon J. Macdonald
30 Architecture and the Scene of Evidence 287
Catherine Ingraham
31 Some Thoughts about National Museums at the End of the Century 294
Roger G. Kennedy
Part IV Histories and Identities in the Museum 299
Introduction 299
32 Memory, Distortion, and History in the Museum 303
Susan A. Crane
33 Museum Matters 317
Gyan Prakash
34 Reality as Illusion, the Historic Houses that Become Museums 324
Mónica Risnicoff de Gorgas
35 Mining the Museum: Artists Look at Museums, Museums Look at Themselves 329
Lisa G. Corrin
36 The Afterlife of Lynching: Exhibitions and the Re-composition of Human Suffering 347
Bettina Messias Carbonell
37 Exhibiting Mestizaje: The Poetics and Experience of the Mexican Fine Arts Center Museum 357
Karen Mary Davalos
38 Indigenous Models of Museums in Oceania 373
Sidney Moko Mead
39 Museums and the Native Voice 377
Gerald McMaster
40 Dangerous Heritage: Southern New Ireland, the Museum and the Display of the Past 383
Sean Kingston
41 Emerging Discourses around Identity in New South African Museum Exhibitions 397
Crain Soudien
Part V Art, Artifacts, and the Deployment of Objects in the Museum 407
Introduction 407
42 Aims and Principles of the Construction and Management of Museums of Fine Art 413
Benjamin Ives Gilman
43 The Museum as an Art Patron 421
John Cotton Dana
44 Cultural Entrepreneurship in Nineteenth-century Boston, Part II: The Classification and Framing of American Art 425
Paul DiMaggio
45 Picturing Feminism, Selling Liberalism: The Case of the Disappearing Holbein 442
Jordanna Bailkin
46 Conclusion to The Love of Art 453
Pierre Bourdieu and Alain Darbel, with Dominique Schnapper
47 Art and the Future's Past 457
Philip Fisher
48 Museums Without Collections: Museum Philosophy in West Africa 473
Malcolm McLeod
49 Women at the Whitney, 1910–30: Feminism/Sociology/Aesthetics 478
Janet Wolff
50 From The Museum as Muse: Artists Reflect: Introduction 491
Kynaston McShine
51 Zero Gravity 503
Maurice Berger
52 Museums and Globalization 510
Saloni Mathur
53 Changing Values in the Art Museum: Rethinking Communication and Learning 517
Eilean Hooper-Greenhill
54 Technology Becomes the Object: The Use of Electronic Media at the National Museum of the American Indian 533
Gwyneira Isaac
Part VI In and Beyond the Museum: Relationships, Interactions, Responsibilities 547
Introduction 547
55 Museums, Corporatism and the Civil Society 549
Robert R. Janes
56 Museums as Agents of Social Inclusion 562
Richard Sandell
57 Partnership in Museums: A Tribal Maori Response to Repatriation 575
Paul Tapsell
58 Interactivity in Museums: The Politics of Narrative Style 580
Andrea Witcomb
59 Speaking about Museums: A Meditation on Language 590
Stephen E. Weil

Selected Bibliography 599
Source Acknowledgments 615
Index 620
Buy Both and Save 25%!
Museum Studies: An Anthology of Contexts, 2nd Edition (US $62.95)
-and- Visual Culture, 2nd Edition (US $26.95)
Total List Price: US $89.90
Discounted Price: US $67.42 (Save: US $22.48)
Cannot be combined with any other offers. Learn more.