Flexible Bronchoscopy, 3rd Edition
ISBN: 978-1-4051-7587-6
348 pages
February 2012, Wiley-Blackwell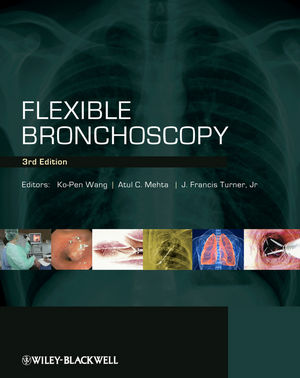 With the development of new instruments and the refining of new techniques, flexible bronchoscopy has become one of the most frequently performed invasive procedures in pulmonary medicine.
This new edition of Flexible Bronchoscopy is an essential addition to the bronchoscopist's bookshelf. It highlights possible complications, contra-indications and precautions. In addition it addresses all current techniques and future technologies in interventional bronchoscopy.
For ease of use Flexible Bronchoscopy is divided into four major sections:
Fundamentals of Bronchoscopy
Diagnostic Bronchoscopy
Therapeutic Bronchoscopy
Special Considerations
Flexible Bronchoscopyis an ideal training manual for all respiratory and pulmonary physicians, as well as trainees and residents working in the field of respiratory medicine, who need to develop the skill of interventional bronchoscopy.
See More
List of Contributors, vii
Preface to the Third Edition, ix
Part 1 Fundamentals of Bronchoscopy
1 Bronchoscopy in the New Millennium, 3
Noriaki Kurimoto and Teruomi Miyazawa
2 Infection Control and Radiation Safety in the Bronchoscopy Suite, 6
Prasoon Jain and Atul C. Mehta
3 Examination of the Larynx Through the Flexible Bronchoscope, 32
Navatha Kurugundla, Adnan Majid, Luis F. Riquelme, and Arthur W. Sung
4 Applied Anatomy of the Airways, 46
Mani S. Kavuru, Atul C. Mehta, and J. Francis Turner Jr
5 Anesthesia for Flexible Fiberoptic Bronchoscopy, 53
Mario Gomez and Gerard A. Silvestri
6 Flexible Bronchoscopy Training, 63
Momen M. Wahidi, Navreet Sandhu Sindhwani, Scott L. Shofer, and Ali I. Musani
7 Indications and Contraindications in Flexible Bronchoscopy, 70
Robert F. Browning Jr, J. Francis Turner Jr, and Ko-Pen Wang
Part 2 Diagnostic Bronchoscopy
8 Bronchoscopy for Airway Lesions, 95
Heinrich D. Becker
9 Bronchoscopic Lung Biopsy, 117
Rajesh R. Patel and James P. Utz
10 Bronchoalveolar Lavage, 132
Brian Palen and Richard Helmers
11 Transbronchial Needle Aspiration for Cytology and Histology Specimens, 147
Ko-Pen Wang, Atul C. Mehta, and J. Francis Turner Jr
12 The Utilization of Autofl uorescence in Flexible Bronchoscopy, 170
Taichiro Ishizumi and Stephen C. T. Lam
13 Endobronchial Ultrasound, 176
Heinrich D. Becker
14 Application and Limitations of Virtual Bronchoscopic Navigation, 191
Fumihiro Asano
Part 3 Therapeutic Bronchoscopy
15 Application of Laser, Electrocautery, Argon Plasma Coagulation, and Cryotherapy in Flexible Bronchoscopy, 201
Praveen N. Mathur
16 Flexible Bronchoscopy and the Application of Endobronchial Brachytherapy, Fiducial Placement, and Radiofrequency Ablation, 212
Michael A. Jantz
17 Foreign Body Aspiration and Flexible Bronchoscopy, 238
Erik Folch and Atul C. Mehta
18 The Role of Bronchoscopy in Hemoptysis, 250
Sunit R. Patel and James K. Stoller
19 Flexible Bronchoscopy and the Use of Stents, 270
Ko-Pen Wang, Atul C. Mehta, and J. Francis Turner Jr
20 Photodynamic Therapy in Lung Cancer, 286
Harubumi Kato, Jitsuo Usuda, and Yasufumi Kato
21 Balloon Bronchoplasty, 294
Sara R. Greenhill and Kevin L. Kovitz
Part 4 Special Considerations
22 Rigid Bronchoscopy, 301
J. Francis Turner Jr and Ko-Pen Wang
23 Pediatric Flexible Bronchoscopy for Adult Bronchoscopists, 309
Xicheng Liu, Shunying Zhao, and Peter Mogayzel
24 Bronchoscopy in the Intensive Care Unit, 317
Alex Chen and Marian H. Kollef
25 Bronchial Thermoplasty, 324
Samir Makani and Michael J. Simoff
Index, 331
See More
Ko-Pen Wang
, Interventional Pulmonology, Johns Hopkins Hospital, Director Chest Diagnostic Center, Harbor Hospital Center, Associate Professor of Medicine, and Otolaryngology Head and neck Surgery, School of Medicine, Johns Hopkins University Baltimore, Maryland, USA
Atul C. Mehta, CMO, Shikh Khalifa Medical City, Abu Dhabi, U.A.E., Staff Physician, Respiratory Institute, Cleveland Clinic, Cleveland, Ohio, USA
J. Francis Turner, Jr., Chief, Interventional Pulmonology & Critical Care Medicine, Nevada Cancer Institute, Professor of Medicine, Department of Internal Medicine, University of Nevada School of Medicine, Las Vegas, Nevada, USA
See More
Buy Both and Save 25%!
Flexible Bronchoscopy, 3rd Edition (US $214.95)
-and- ABC of Asthma, 6th Edition (US $45.95)
Total List Price: US $260.90
Discounted Price: US $195.67 (Save: US $65.23)
Cannot be combined with any other offers. Learn more.