The Encyclopedia of the Roman Army, 3 Volume Set
ISBN: 978-1-4051-7619-4
1176 pages
March 2015, Wiley-Blackwell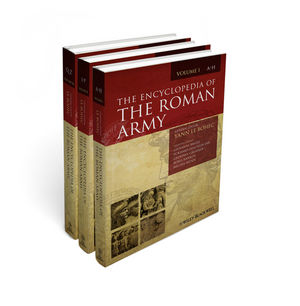 The Encyclopedia of the Roman Army
is a comprehensive three-volume reference to the armed forces deployed by ancient Rome during its Early Period, Republic, Principate, and Late Antique times.
A comprehensive three-volume reference work on one of the greatest military institutions in world history

Offers broad coverage of the Roman army, from the lives of individual soldiers to military issues such as hierarchical command structure, tactics, strategy, and battle

Analyzes the Roman army from a modern historical perspective including exploration of large themes relating to the military and Rome's economy, politics, and religion

Spans Early Rome, Republic, Principate and Late Antiquity periods

Includes contributions from many internationally renowned historians
See More
Yann Le Bohec is Professor Doctor Emeritus at the Sorbonne University in Paris. He is the author of more than twenty books on military history including The Imperial Roman Army (1994), which has been translated into six languages.
See More
"The scope is wide, the level of detail is impressive and the illustrations are excellent. This encyclopedia should appeal to advanced high school students, university students and faculty, as well as the interested general public." (Reference Reviews, 1 October 2015)

"A tour de force of anything and everything relating to the Roman army, this set will be a valuable acquisition for individuals interested in military history and for libraries maintaining collections in support of military curricula and studies in Roman history." (Choice Connect, 2016)
"Professor Le Bohec has assembled an all-star cast of scholars to produce an essential reference tool for any aspect of the Roman army from its origins to its final days.  A tour de force!" –Nathan Rosenstein, The Ohio State University
"No other encyclopedia exists on the Roman army. This is an invaluable scholarly resource, which also appeals to a wide audience. Librarians take note!" –Beau David Case, University of Michigan
See More