Policy, Management and Finance for Public-Private Partnerships
ISBN: 978-1-4051-7791-7
Hardcover
504 pages
November 2008, Wiley-Blackwell
US $150.00

Add to Cart
This price is valid for United States. Change location to view local pricing and availability.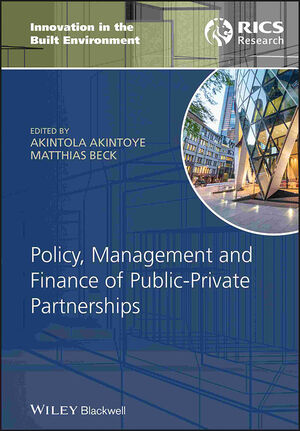 Other Available Formats:
E-book
Foreword
.
Contributors.
Introduction.
Part One: PPP Policy.
1 Private Finance Initiative in Use.
Ezekiel Chinyio and Rod Gameson.
1.1Introduction.
1.2The private finance initiative.
1.3UK government's influence on the use of PFI.
1.4Private sector tasks in PFI.
1.5Establishing PFI contracts.
1.6Forms of finance used in PFI.
1.7Performance of PFI schemes -- a theoretical perspective.
1.8Improving the performance of PFI.
1.9Performance of PFI schemes -- an empirical review.
1.10A generic overview of PFI schemes.
1.11Comparative studies.
1.12Conclusion.
2 Using the Private Sector to Finance Capital Expenditure.
Jean Shaoul.
2.1Introduction.
2.2The control of PFI.
2.3Post-implementation evaluation of PFI.
2.4Conclusion.
3 Obstacles to Accountability in PFI Projects.
Darinka Asenova and Matthias Beck.
3.1Introduction.
3.2Finance capital and institutional decision making.
3.3Conclusion.
4 Refinancing and the Profitability of UK PFI Projects.
Steven Toms, Darinka Asenova and Matthias Beck.
4.1Introduction.
4.2PFI finance and value for money.
4.3Mechanisms and policies of refinancing.
4.4PFI profits and refinancing.
4.5Conclusion.
5 The Dedicated PPP Unit of the South African National Treasury.
Philippe Burger.
5.1Introduction.
5.2The rationale for PPPs.
5.3The rationale for a dedicated PPP unit.
5.4A brief history of PPPs and the PPP unit in South Africa.
5.5The role of the South African dedicated PPP Unit.
5.6Future challenges.
5.7Conclusion.
6 PPP in Greenfield Airport Development.
Thillai Rajan A., Sheetal Sharad and Sinha Sidharth.
6.1Introduction.
6.2Private participation in new airport development.
6.3Indian aviation sector.
6.4The Cochin International Airport project.
6.5Performance of CIAL.
6.6Summary and lessons.
7 PPPs for Physical Infrastructure in Developing Countries.
Akintola Akintoye.
7.1Introduction.
7.2An overview of public--private partnerships.
7.3PPP: developed economies.
7.4PPP: Developing economies.
7.5PPP: Analysis of private sector participation.
7.6Discussion.
7.7Conclusions.
8 Team building for PPPs.
Mohan M. Kumaraswamy, Florence Y.Y. Ling and Aaron M. Anvuur.
8.1Introduction.
8.2Integrating and sustaining PPP teams.
8.3Hong Kong perspectives of PPP teams.
8.4Singapore perspectives of PPP teams.
8.5Intergrating PPP project teams.
8.6Selecting project consortium teams.
8.7Concluding observations.
Part Two: PPP Finance.
9 PPP Infrastructure Investments.
Demos C. Angelides and Yiannis Xenidis.
9.1Introduction.
9.2Critical issues in financing PPP projects.
9.3Prospects for PPP infrastructure development.
9.4Conclusion.
10 Patterns of Financing PPP Projects.
Sudong Ye.
10.1Introduction.
10.2General patterns of financing PPP projects.
10.3Choice of financing patterns.
10.4Summary.
.
11 PPP Financing in the USA.
Arthur L. Smith.
11.1Introduction.
11.2PPP financing models in the US.
11.3Case studies.
11.4Conclusions.
12 Financial Modelling of PPP Projects.
Ammar Kaka and Faisal Alsharif.
12.1Introduction.
12.2Research in PPP financial modelling.
12.3Cost models.
12.4Occupancy cost.
12.5Cash flow models.
12.6PFI financial modelling in practice.
12.7An example of a PFI financial model for schools.
12.8Conclusion.
13 Application of Real Options in PPP Infrastructure Projects.
Charles Y.J. Cheah and Michael J. Garvin.
13.1Introduction.
13.2Infrastructure project flexibility as real options.
13.3Real options literature related to architecture, engineering, construction and infrastructure projects.
13.4Modelling issues and concerns.
13.5An integrated real options--risk management process for PPP infrastructure projects.
13.6Summary.
14 Financial Implications of Power Purchase Agreement Clauses in Revenue Stream of Independent Power Producers in Nepal.
Raju B. Shrestha, Stephen Ogunlana.
14.1Introduction.
14.2Financial analysis.
14.3Analyses of clauses.
14.4Summary.
15 Government Policy on PPP Financial Issues.
S. Ping Ho.
15.1Introduction.
15.2Game theory.
15.3Is bid compensation effective in PPP tendering?.
15.4Financial renegotiation problems and the implied administration policies.
15.5Financial renegotiation game and its equilibrium.
15.6Propositions and rules.
15.7Governing principles and policy implications for project procurement and management.
15.8Conclusion.
Part Three: PPP Management.
16 Innovation in PPP.
David Eaton and Rıfat Akbiyikli.
16.1Introduction.
16.2Innovation and competitive advantage in PPP.
16.3Stimulants and impediments to innovation in PFI/PPP projects.
16.4Innovation and financial issues in PFI/PPP projects.
16.5Conclusion.
17 Combining Finance and Design Innovation to Develop Winning Proposals.
Colin F. Duffield and Chris J. Clifton.
17.1Introduction.
17.2The drivers of PFI/PPP projects in different jurisdictions.
17.3Design innovation: the issues.
17.4Financing arrangements for PFI/PPP projects.
17.5The theory and practice of winning proposals.
18 The Application of a Whole Life Value Methodology to PPP/PFI Projects.
John Kelly.
18.1Introduction.
18.2Projects.
18.3Client value system.
18.4Whole-life costing.
18.5The application of whole-life value to the PPP/PFI process.
18.6Discussion.
19 Best Value Procurement in Build Operate Transfer Projects.
Irem Dikmen, M. Talat Birgonul and Guzide Atasoy.
19.1Introduction.
19.2Bid evaluation in BOT projects.
19.3Case studies.
19.4Best value procurement in BOT projects.
19.5An application of the proposed methodology.
19.6Concluding remarks.
20 Application of Risk Analysis in Privately Financed Projects.
Tony Merna and Douglas Lamb.
20.1Introduction.
20.2The PSC and the PFA.
20.3Conclusion.
21 Developing a Framework for Procurement Options Analysis.
Darrin Grimsey and Mervyn K Lewis.
21.1Introduction.
21.2What do PPPs bring to procurement?.
21.3Developing a methodology.
21.4Conclusion.
22 The Payment Mechanism in Operational PFI Projects.
Jon Scott and Herbert Robinson.
22.1Introduction.
22.2The key principles.
22.3Value for money arguments.
22.4Key components of the payment mechanism.
22.5The output specification.
22.6Performance measurement system.
22.7Case studies.
22.8Analysis and discussion of findings.
22.9Concluding remarks.
23 Concession Period Determination for PPP Infrastructure Projects in Hong Kong.
Xueqing Zhang.
23.1Introduction.
23.2PPP projects in Hong Kong.
23.3Build, operate, transfer scheme.
23.4Concession period.
23.5Concession period determination methods.
23.6Simulation-based concession period determination methodology.
23.7Simulation-based concession period determination framework.
23.8Conclusions.
Index