Textbook
Cultural Diversity and Global Media: The Mediation of Difference
ISBN: 978-1-4051-8046-7
Paperback
232 pages
March 2010, ©2010, Wiley-Blackwell
US $44.95

Add to Cart
This price is valid for United States. Change location to view local pricing and availability.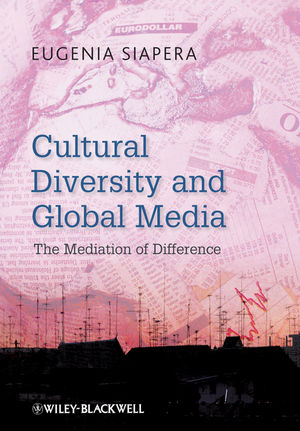 1. (Re)thinking Cultural Diversity and the Media
1.1. The Crises of Multiculturalism
1.2. The Mediation of Cultural Diversity
1.3. The Structure of the Book
2. Theorizing the Nation
2.1. Theories of the Nation
2.2. A Word on Globalization
2.3. Conclusions
3. Varieties of Multiculturalism
3.1. A Typology of European Multiculturalism
3.2. Multiculturalism in Immigration Countries: US and Canada
3.3. Constitutively Different: India and Nigeria
3.4. Conclusions
4. Theories of Multiculturalism
4.1. Multicultural Dilemmas
4.2. Essentialism or Fluidity?
4.3. Universalism or Particularism?
4.4. Recognition or Redistribution?
4.5. Conclusions
5. Media Theories and Cultural Diversity
5.1. Socio-Psychological Approaches to Media
5.2. Medium Theory
5.3. Political-Economic Theories of the Media
5.4. Socio-Cultural Approaches to the Media
5.5. Mediation: The Difference Media Make
5.6. Conclusions
6. Media Production and Diversity
6.1. Media Production and Mediation
6.2. Media Corporations
6.3. Media Organizations and Media Logics
6.4. Media Workers
6.5. Conclusions
7. Minority and Diasporic Media: Controversies and Contributions
7.1. Why Study Minority Media?
7.2. Issues of Terminology
7.3. Theorizing the Role(s) of Diasporic Media
7.4. Diasporic Media: a Typology
7.5. The Politics of Diasporic Media
7.6. Conclusions
8. Theories of Representation
8.1. The Work of Representation
8.2. Stereotyping: the Cognitive Aspects of Representation
8.3. Framing and Discourse: a First Link to Ideology
8.4. Semiosis, Discourse, and Representation: an Historical Analysis
8.5. The Performative Force of Representation
8.6. Conclusions: Representation and Mediation
9. Regimes of Representation
9.1. The Multiplicity of Representations
9.2. The Racist Regime of Representation
9.3. The Domesticated Regime of Representation
9.4. The Regime of Commodification
9.5. Conclusions
10. Self-Representations of Cultural Diversity
10.1. Representational Dilemmas
10.2. The Essentialist Regime of Representation
10.3. The Alternative Regime of Representation
10.4. Conclusions
11. Audiences and Cultural Diversity
11.1. What Do People Do with the Media?
11.2. Audience Reception of Mediated Cultural Diversity
11.3. Ethno-Cultural Groups as Audiences
11.4. Media Consumption and Identity
11.5. Right to Reply: How Can Audiences Respond?
11.6. Conclusions
12. Cultural Diversity Online
12.1. The Difference the Internet Makes
12.2. Network Society and Cultural Diversity
12.3. Mediation of Cultural Diversity Internet Style
12.4. Conclusions
Bibliography
Index