Textbook
An Introduction to Architectural Theory: 1968 to the Present
ISBN: 978-1-4051-8062-7
Paperback
208 pages
April 2011, ©2011, Wiley-Blackwell
US $36.95

Add to Cart
This price is valid for United States. Change location to view local pricing and availability.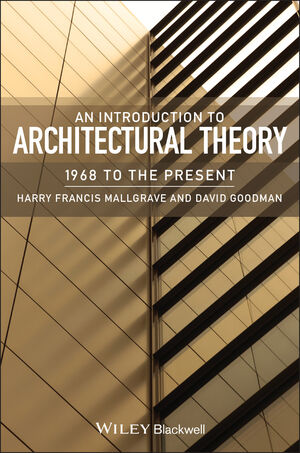 List of Illustrations.
Prelude: The 1960s.
Technology and Ecology.
Social Underpinnings of Modernism.
1968.
Part I: 1970s:
1. Pars Destruens: 1968–1973.
Venturi and Scott Brown.
Rossi and Tafuri.
The Milan Triennale.
The IAUS and the New York Five.
2. The Crisis of Meaning.
Semiotics and Architecture.
Five on Five.
Gray and White.
Variations on a Theme.
3. Early Postmodernism.
The Language of Postmodernism.
Consummation in Venice.
European Counterpoints.
4. Modernism Abides.
The Chicago High-Rise.
German Engineering.
British Renaissance.
Post-Metabolism in Japan.
The Special Case of Alexander.
Part II: 1980s:
5. Postmodernism and Critical Regionalism.
Postmodernism Further Defined.
Postmodernism Opposed.
Critical Regionalism and Phenomenology.
Mérida and Venice.
6. Traditionalism and New Urbanism.
The Prince of Architecture.
The Paternoster Controversy.
Toward a New Urbanism.
7. Gilded Age of Theory.
Poststructural Theory.
Poststructural Architecture.
Eisenman and Tschumi.
8. Deconstruction.
Postmodernism Undefined.
Gehry.
The 68ers Come of Age.
". . . a devious architecture . . .".
Part III: 1990s and Present:
9. Wake of the Storm.
Fragments of Fragments.
From Derrida to Deleuze.
Geometry and Autonomy.
The End of the Figure: Manipulated Grounds.
Form without Rhetoric.
10. Pragmatism and Post-Criticality.
OMA.
The Orange Revolution.
Post-Criticality.
11. Minimalisms.
Materiality and Effects.
Neo-modernism.
Phenomenological Architecture.
12. Sustainability and Beyond.
The Green Movement.
McDonough and Yeang.
Green Urbanism.
Biophilic Design.
Neuroaesthetics.
Notes.
Acknowledgments.
Index.