Achieving Cultural Competency: A Case-Based Approach to Training Health Professionals
ISBN: 978-1-4051-8072-6
310 pages
April 2009, Wiley-Blackwell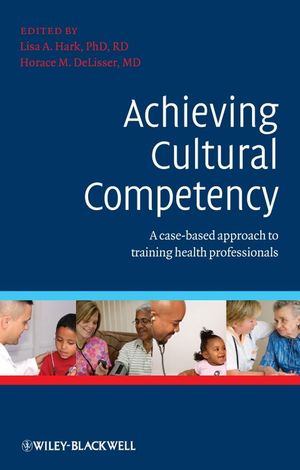 Achieving Cultural Competency: A Case-Based Approach to Training Health Professionals
provides the necessary tools to meet the ever-growing need for culturally competent practitioners and trainees. Twenty-five self-study cases cover a variety of medical topics, including cardiovascular, pulmonary, neurology, oncology, hematology, immunology, and pediatric disorders. Actual scenarios that occurred in clinical settings help the user gain direct insight into the realities of practice today. Cultural factors covered within the cases include cultural diversity plus gender, language, folk beliefs, socioeconomic status, religion, and sexual orientation.
This book is an approved CME-certifying activity to meet physicians' cultural competency state requirements.
Get 25 pre-approved self-study American Dietetic Association credits at no additional charge when you purchase the book.  Email hark@lisahark.com for further instructions.
See More
Contributors viii
CME Disclosure Information xii
Preface xv
Foreword xvii
Acknowledgments xx
Introduction xxi
Tools to Assess Cultural Competency Training (TACCT) xxxii
Case 1 Ruth Franklin: A 40-year-old African American woman with heart failure 1
Susan E. Wiegers and Horace DeLisser MD
Case 2 Carl Jones: A 48-year-old homeless Caucasian man with chest pain and lung cancer 10
Lisa Bellini
Case 3 Maria Morales: A 57-year-old Mexican woman with type 2 diabetes 17
Desiree Lie and Charles Vega
Case 4 Maya Mohammed: A 15-year-old Arab American teenager with leukemia 25
Amal Mohamed Osman Khidir Alexander Chou and Lyuba Konopasek
Case 5 Jon Le: A 48-year-old Korean man with cerebral hemorrhage 37
Scott Kasner and Horace DeLisser
Case 6 Nadia Rosenberg: A 53-year-old Russian woman with drug-resistant tuberculosis 45
Elena N. Atochina-Vasserman and Helen Abramova
Case 7 Isabel Delgado: A 47-year-old Dominican woman with hypertension 55
Debbie Salas-Lopez and Eric Gertner
Case 8 George Dennis: A 35-year-old African American man with AIDS 62
Ronald G. Collman
Case 9 Mary Jones: A 2-year-old Caucasian girl with delayed speech development 71
Dodi Meyer Hetty Cunningham Rica Mauricio and Alexandra Schieber
Case 10 Priya Krishnamurthy: A 73-year-old South Asian Indian woman with a stroke 84
Scott Kasner Roy Hamilton Steven Mess´e and Sashank Prasad
Case 11 Carlos Cruz: A 34-year-old Mexican man with sleep apnea and metabolic syndrome 94
Indira Gurubhagavatula Lisa Hark and Sharon L. Drozdowsky
Case 12 Denise Smith: A 41-year-old Caucasian woman with asthma 104
John Paul Sánchez Nelson Felix Sánchez and Ana Núñez MD
Case 13 Mae Ling Chung: A 22-year-old Chinese woman in an arranged marriage 116
Elizabeth Lee-Rey and Nereida Correa
Case 14 Earl Collins: A 73-year-old African American man with lung cancer 127
Mitchell L. Margolis and Lisa Bellini
Case 15 Irma Matos: A 66-year-old Ecuadorian woman with type 2 diabetes and hypertension 133
Edgar Maldonado and Debbie Salas-Lopez
Case 16 Eileen Clark: An 82-year-old African American woman with a stroke 142
Scott Kasner and Horace DeLisser
Case 17 Leslie O'Malley: A 66-year-old Irish American man with breast cancer 149
J. Eric Russell
Case 18 Juana Caban: A 21-year-old Puerto Rican woman who is pregnant and HIV-positive 155
Lisa Rucker Nadine T. Katz and Nicholas E.S. Sibinga
Case 19 Alice Gregory: A 71-year-old African American woman with aortic stenosis 163
Susan E. Wiegers and Horace DeLisser MD
Case 20 Sunil Guha: A 32-year-old South Asian Indian man with metabolic syndrome 169
Fran Burke and Lisa Hark
Case 21 Pepper Hawthorne: A 19-year-old Caucasian woman with a stroke 179
Scott Kasner
Case 22 Alika Nkuutu: A 24-year-old African woman with sickle cell disease 186
J. Eric Russell
Case 23 Miguel Cortez: A 9-year-old Mexican boy with asthma 192
Noel B. Rosales
Case 24 Naomi Fulton: A 49-year-old African American woman with metabolic syndrome 199
Gail Marion and Lisa Hark
Case 25 Bobby Napier: A 68-year-old Caucasian Appalachian man with type 2 diabetes 207
Elizabeth Lee-Rey Sonia Crandall and Thomas A. Arcury
Appendix 1: Positioning the Interpreter 216
Appendix 2: Kleinman's Explanatory Model of Illness 217
Multiple Choice Questions 220
Answers 262
Index 267
See More
Horace DeLisser
, MD: After receiving his medical degree from the University of Pennsylvania in 1985, he remained at the University to complete his internal medicine residency and pulmonary medicine fellowship, as well as post-doctoral research training. He is currently a pulmonary and critical care specialist and an Associate Professor of Medicine at the University of Pennsylvania, School of Medicine. Scientifically, Dr. DeLisser has a program of independently funded research that is focused on the cells that line blood vessels (endothelial cells) and their activity during inflammation and the formation of new vessels. Dr. DeLisser has been also been very active in medical education with a particular interest in cultural competency. He is a course director of the first year medical student course, "Culture and Communication" and is the Co- investigator for the NIH, NHLBI funded grant "Cultural Competence Health Disparities Training Program". He precepts and teaches in several of the medical school's courses on humanism and professional. Additionally, Dr. DeLisser helped to develop the course, Spirituality in Medicine. In recognition of his contributions to medical education, he earned the Leonard Berwick Memorial Teaching Award, a First Year Medical School, Class, Outstanding Teacher Award, a Penn Pearls Teaching Award and the 2005 Robert L. Mayock – Alfred P. Fishman Teaching Award.
Lisa Hark, PhD, RD is a renowned family nutrition expert with over 20 years of experience in nutrition counseling and promoting the benefits of healthy eating in children and adults. As Director of the Nutrition Education and Prevention Program at the University of Pennsylvania School of Medicine in Philadelphia for the past 18 years, she is a leading nutrition educator of medical students and doctors. She is currently Project Director for the Cultural Competence Health Disparities Training Program", a five-year grant funded by the NIH, National Heart, Lung, and Blood Institute. Recently, she was the host for season one of the new television series "Honey, We're Killing the Kids", which airs on TLC. Dr. Hark is the editor-in-chief of numerous books including Medical Nutrition and Disease: A Case-Based Approach (Blackwell Publishing), which is now in its 3rd edition and used in many medical schools, physician assistant, nursing and dietetic programs in the US and around the world. In 2004, she edited Cardiovascular Nutrition: Disease Management and Prevention (American Dietetic Association). In 2005 and 2006 she co-authored Nutrition For Life and The Whole Grain Miracle Diet (DK Publishing). Her current book, The Complete Guide to Nutrition in Primary Care, (Blackwell Publishing), will be released in 2007 and is aimed at primary care clinicians, nurses, physician assistants, and nutritionists.
See More
Buy Both and Save 25%!
Achieving Cultural Competency: A Case-Based Approach to Training Health Professionals (US $91.95)
-and- Hospital Images: A Clinical Atlas (US $85.95)
Total List Price: US $177.90
Discounted Price: US $133.42 (Save: US $44.48)
Cannot be combined with any other offers. Learn more.
Learn more about