Immunotherapy in Transplantation: Principles and Practice
ISBN: 978-1-4051-8271-3
472 pages
May 2012, Wiley-Blackwell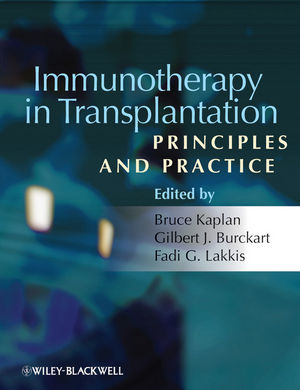 This comprehensive reference source will benefit all transplant specialists working with pharmacologic and biologic agents that modulate the immune system. Compiled by a team of world-renowned editors and contributors covering the fields of transplantation, nephrology, pharmacology, and immunology, the book covers all anti-rejection drugs according to a set template and includes the efficacy of each for specific diseases.
See More
List of Contributors.
Preface.
Section 1: Transplantation Immunobiology.
1 The Immune Response to a Transplanted Organ: An Overview (Fadi G. Lakkis).
2 Antigen Presentation in Transplantation (Martin H. Oberbarnscheidt and Fadi G. Lakkis).
3 The T Cell Response to Transplantation Antigens (Didier A. Mandelbrot, Bryna Burrell, Mohamed H. Sayegh and Peter S. Heeger).
4 The B Cell Response to Transplantation Antigens (Roger Sciammas, Anita S. Chong, Robert B. Colvin).
5  The Innate Response to a Transplanted Organ (Daniel R. Goldstein and Laurence A. Turka).
6 Regulation of the Alloimmune Response (Kathryn J Wood and Terry B Strom).
Section 2: Transplantation Clinical Pharmacology.
7 Pharmacokinetics (Raman Venkataramanan).
8 Therapeutic Drug Monitoring for Immunosuppressive Agents (Michael C. Milone and Leslie M. J. Shaw).
9 Pharmacometrics: Concepts and Applications to Drug Development (Mallika Lala and Jogarao V. S. Gobburu).
10 Pharmacogenomics and Organ Transplantation (Gilbert J. Burckart and Richard M. Watanabe).
11 Study Design/process of development: Clinical studies (Richard D. Mamelok).
Section 3: Agents.
12 Corticosteroids (Olivia Blume, Sarah E. Yost and Bruce Kaplan).
13 Azathioprine (Barry J. Browne).
14 Pharmacokinetic and Pharmacodynamic Properties of Mycophenolate (David Hager, Arjang Djamali, Bruce Kaplan).
15 Cyclosporine: Molecular Action to Clinical Therapeutics (Bradford Strijack and Paul A. Keown).
16 Tacrolimus (William E. Fitzsimmons).
17 Inhibitors of Mammalian Target of Rapamycin (Barry D. Kahan).
18 Inhibitors Targeting JAK3 (Gary Chan, Paul S. Changelian).
19 Cyclophosphamide (John J. Curtis).
20 Application of antisense technology in medicine (Stanislaw M. Stepkowski, Beata Mierzejewska, Frank C. Bennett).
21 The role of ganciclovir in transplantation (Lyndsey J. Bowman and Daniel C. Brennan).
22 Transplantation Immunotherapy with Anti-Thymocyte Globulin (ATG) (John L. Dzuris, Christian Bloy, Melanie Ruzek, John M. Williams).
23 The Role of Alemtuzumab in Solid Organ Transplantation (Avinash Agarwal, David  Bruno and Stuart J. Knechtle).
24 Rituximab, an anti-CD20 monoclonal antibody (Mark D. Pescovitz).
25 The Anti-Interleukin 2 Receptor Antibodies (Muna Alnimri and Flavio Vincenti).
26 Infliximab/ Anti-TNF (Marina Vardanyan, Edward C. Parkin, Horacio L. Rodriguez Rilo).
27 CTLA4-Ig (Sarah E. Yost and Bruce Kaplan).
28 Combination and Adjuvant Therapies to Facilitate the Efficacy of Costimulatory Blockade (Swetha K. Srinivasan, Helen L. Triemer, Allan D. Kirk).
29 Intravenous Immunoglobulin (IVIG) a Modulator of Immunity and Inflammation with Applications in Solid Organ Transplantation (Stanley C. Jordan, Mieko Toyoda, Joseph Kahwaji, Alice Peng and Ashley A. Vo).
Index.
See More
"Overall, the text is highly structured, well presented and applicable to transplant clinicians and pharmacologists in particular. . . . Those wishing to advance their understanding of transplant immunology, the technologies and techniques used for drug monitoring, the drug development pipeline and the basis for use of current agents in transplantation will find their interests more than satisfied."  (American Journal of Transplantation, 5 September 2013)
"It will serve a clinician well as a focused reference for immunology and pharmacotherapy relevant to the transplant arena. It would be a welcome and useful addition to the medical or pharmaceutical library of a transplant professional or institution, albeit on the expensive side for a focused textbook."  (The Annals of Pharmacotherapy, 1 March 2013)
"This comprehensive reference source will benefit all transplant specialists working with pharmacologic and biologic agents that modulate the immune system."  (European Journal of Immunology, 1 December 2012)
"This is a decent review of transplant immunology that is helpful for the training practitioner. Given its systematic approach, it is easier to follow than other books on the subject."  (Doody's, 17 August 2012)
See More
Buy Both and Save 25%!
Immunotherapy in Transplantation: Principles and Practice (US $280.00)
-and- The AST Handbook of Transplant Infections (US $57.95)
Total List Price: US $337.95
Discounted Price: US $253.46 (Save: US $84.49)
Cannot be combined with any other offers. Learn more.