A Companion to Asian Art and Architecture
ISBN: 978-1-4051-8537-0
688 pages
May 2011, Wiley-Blackwell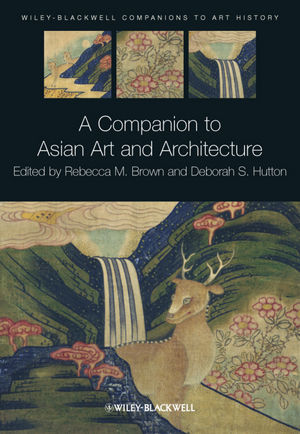 A Companion to Asian Art and Architecture
presents a collection of 26 original essays from top scholars in the field that explore and critically examine various aspects of Asian art and architectural history.
Brings together top international scholars of Asian art and architecture
Represents the current state of the field while highlighting the wide range of scholarly approaches to Asian Art
Features work on Korea and Southeast Asia, two regions often overlooked in a field that is often defined as India-China-Japan
Explores the influences on Asian art of global and colonial interactions and of the diasporic communities in the US and UK
Showcases a wide range of topics including imperial commissions, ancient tombs, gardens, monastic spaces, performances, and pilgrimages.
See More
List of Illustrations.
Notes on Contributors.
Acknowledgments.
Part I Introduction.
1 Revisiting "Asian Art" (Rebecca M. Brown and Deborah S. Hutton).
Part II Objects in Use.
2 The Material Facts of Ritual: Revisioning Medieval Viewing through Material Analysis, Ethnographic Analogy, and Architectural History (Kevin Gray Carr).
3 Textiles and Social Action in Theravada Buddhist Thailand (Leedom Lefferts).
4 Functional and Nonfunctional Realism: Imagined Spaces for the Dead in Northern Dynasties China (Bonnie Cheng).
5 The Visible and the Invisible in a Southeast Asian World (Jan Mrázek).
Part III Space.
6 Building Beyond the Temple: Sacred Centers and Living Communities in Medieval Central India (Tamara I. Sears).
7 Urban Space and Visual Culture: The Transformation of Seoul in the Twentieth Century (Kim Youngna).
8 Unexpected Spaces at the Shwedagon (Elizabeth Howard Moore).
9 The Changing Cultural Space of Mughal Gardens (James L. Wescoat Jr.).
Part IV Artists.
10 Old Methods in a New Era: What Can Connoisseurship Tell Us about Rukn-ud-Din? (Molly Emma Aitken and Shanane Davis, with technical analysis by Yana van Dyke).
11 Convergent Conversations: Contemporary Art in Asian America (Margo Machida).
12 The Icon of the Woman Artist: Guan Daosheng (1262–1319) and the Power of Painting at the Ming Court c. 1500 (Jennifer Purtle).
13 Diasporic Body Double: The Art of the Singh Twins (Saloni Mathur).
Part V Challenging the Canon.
14 Re-evaluating Court and Folk Painting of Korea (Kumja Paik Kim).
15 Conflict and Cosmopolitanism in "Arab" Sind (Finbarr Barry Flood).
16 In the Absence of the Buddha: "Aniconism" and the Contentions of Buddhist Art History (Ashley Thompson).
17 On Maurya Art (Frederick Asher).
Part VI Shifting Meanings.
18 Art, Agency, and Networks in the Career of Tokugawa Ieyasu (1543–1616) (Morgan Pitelka).
19 Shiva Nataraja: Multiple Meanings of an Icon (Padma Kaimal).
20 Sifting Mountains and Rivers through a Woven Lens: Repositioning Women and the Gaze in Fourteenth-Century East Java (Kaja M. McGowan).
21 Dead Beautiful: Visualizing the Decaying Corpse in Nine Stages as Skillful Means of Buddhism (Ikumi Kaminishi).
22 In the Name of the Nation: Song Painting and Artistic Discourse in Early Twentieth-Century China (Cheng-hua Wang).
Part VII Elusive, Mobile Objects.
23 Chinese Painting: Image-Text-Object (De-nin Deanna Lee).
24 Locating Tomyoji and Its "Six" Kannon Sculptures in Japan (Sherry Fowler).
25 The Unfired Clay Sculpture of Bengal in the Artscape of Modern South Asia (Susan S. Bean).
26 Malraux's Buddha Heads (Gregory P. A. Levine).
Index.
See More
Rebecca M. Brown
is visiting Associate Professor in the History of Art and Political Science at Johns Hopkins University, USA. Her publications include
Gandhi's Spinning Wheel and the Making of India
(2010), and
Art for a Modern India, 1947-1980
(2009)
Deborah S. Hutton is Associate Professor of Art History at The College of New Jersey, USA. She is the author of Art of the Court of Bijapur (2006), which received the American Institute of Indian Studies Edward Cameron Dimock Jr. Prize in the Indian Humanities.
Together, Rebecca Brown and Deborah Hutton have edited Asian Art: An Anthology (Wiley-Blackwell, 2006).
See More
Buy Both and Save 25%!
A Companion to Asian Art and Architecture (US $207.95)
-and- Creative Writing and Art History (US $39.95)
Total List Price: US $247.90
Discounted Price: US $185.92 (Save: US $61.98)
Cannot be combined with any other offers. Learn more.
More in this series