The International Encyclopedia of Ethics, 9 Volume Set
ISBN: 978-1-4051-8641-4
5486 pages
February 2013, Wiley-Blackwell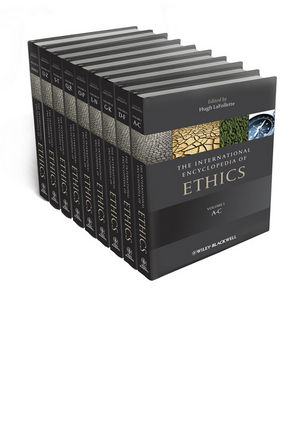 Unmatched in scholarship and scope, The International Encyclopedia of Ethics is the definitive single-source reference work on Ethics, available both in print and online.
Comprises over 700 entries, ranging from 1000 to 10,000 words in length, written by an international cast of subject experts
Is arranged across 9 fully cross-referenced volumes including a comprehensive index
Provides clear definitions and explanations of all areas of ethics including the topics, movements, arguments, and key figures in Normative Ethics, Metaethics, and Practical Ethics
Covers the major philosophical and religious traditions
Offers an unprecedented level of authority, accuracy and balance with all entries being blind peer-reviewed
See More
Editor-In-Chief
Hugh LaFollette is Cole Chair in Ethics at the University of South Florida St. Petersburg. He is author of three books, most recently The Practice of Ethics, as well as of numerous articles. He has also edited several anthologies. Currently he is working on the fourth edition of Ethics in Practice and the second edition of the Blackwell Guide to Ethical Theory. He mainly works on diverse issues in practical and normative ethics.
Associate Editors
John Deigh is Professor of Law and Philosophy at the University of Texas at Austin. He is author of The Sources of Moral Agency (1996), Emotions, Values, and the Law (2008) and An Introduction to Ethics (2010). He was editor of Ethics from 1997 to 2008.
Sarah Stroud is Associate Professor of Philosophy at McGill University. She has published widely on topics spanning moral theory, metaethics, moral psychology, and related areas, in venues such as Ethics, Philosophy & Public Affairs, Philosophy & Phenomenological Research, Philosophical Studies, and the Stanford Encyclopedia of Philosophy. She co-edited, with Christine Tappolet, Weakness of Will and Practical Irrationality (2003). She is an executive editor of the Canadian Journal of Philosophy.
See More
"This encyclopedia is an impressive and distinctive addition to the field and is likely, in either of its forms, to be the authority for many years to come."  (Reference Reviews, 1 October 2014)
"Additionally, this set is the first to incorporate metaethics, practical ethics, and normative ethics into one set.  This set is highly recommended for libraries in higher education. Aimed at a broad audience, it will be particularly useful for undergraduate students, graduate students, and scholars, who will likely find it to be an invaluable resource."  (Booklist, 15 September 2013)
"It is a comprehensive, extremely valuable, and indeed indispensable reference work.  Summing Up:  Highly recommended.  Upper-division undergraduates and above."  (Choice, 1 September 2013)
The International Encyclopedia of Ethics will be a major resource for anyone interested in becoming familiar with the best scholarship on just about any topic in ethics. The editors have done a superb job, and the entries are of the highest quality. Highly recommended.
John Martin Fischer
University of California, Riverside


With its distinguished international editorial board and contributions from a star-studded cast of authors, the International Encyclopedia of Ethics lives up to its ambitious name. In its nine volumes it is able to cover an impressively broad and comprehensive array of pertinent topics, movements, and figures—Western and non-Western, historical and contemporary, religious and secular, metaethical and normative alike. Bibliographies are generous, cross-references are ample, and entries are both accessibly written and cutting edge. With entries on topics as diverse and wide-ranging as "Glass Ceiling" and "Savior Siblings," it is not just an indispensable resource for both students and scholars, but one that invites the kind of spontaneous browsing that can creatively transform scholarship.
Jennifer A. Herdt
Yale University



The International Encyclopedia of Ethics draws on the work of many of leading contemporary philosophers to provide an outstanding guide to current thinking about ethics.
Peter Singer
Princeton University

The International Encyclopedia of Ethics is breathtaking in its ambition and scope. This nine volume masterpiece draws on the expertise of more than 600 authors from 23 countries, to present the most comprehensive reference work ever devoted to the field of ethics. The Editor, Hugh LaFollette, has done a magnificent job in guiding authors to write entries that will be of great benefit to intelligent laypeople, students, and professionals alike. Each entry offers substantial background and analysis of the topic in question, and provides a valuable list of references, cross-references, and suggested readings to guide further research. Every major research institution in the world will need to acquire or have access to it, as philosophers and non-philosophers alike will turn to it again and again for illumination of the many ethical concepts and issues that are so important in our lives. There is simply nothing else like it! 
Larry S. Temkin
Rutgers University
See More