The Handbook of Linguistics, 2nd Edition
ISBN: 978-1-4051-8676-6
712 pages
April 2017, Wiley-Blackwell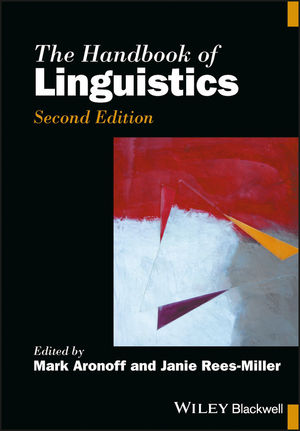 "The first edition of this Handbook is built on surveys by well-known figures from around the world and around the intellectual world, reflecting several different theoretical predilections, balancing coverage of enduring questions and important recent work. Those strengths are now enhanced by adding new chapters and thoroughly revising almost all other chapters, partly to reflect ways in which the field has changed in the intervening twenty years, in some places radically. The result is a magnificent volume that can be used for many purposes."
David W. Lightfoot, Georgetown University
"The Handbook of Linguistics, Second edition is a stupendous achievement. Aronoff and Rees-Miller have provided overviews of 29 subfields of linguistics, each written by one of the leading researchers in that subfield and each impressively crafted in both style and content. I know of no finer resource for anyone who would wish to be better informed on recent developments in linguistics."
Frederick J. Newmeyer, University of Washington, U of British Columbia and Simon Fraser U
"Linguists, their students, colleagues, family, and friends: anyone interested in the latest findings from a wide array of linguistic subfields will welcome this second updated and expanded edition of The Handbook of Linguistics. Leading scholars provide highly accessible yet substantive introductions to their fields: it's an even more valuable resource than its predecessor."
Sally McConnell-Ginet, Cornell University
"No handbook or text offers a more comprehensive, contemporary overview of the field of linguistics in the twenty-first century. New and thoroughly updated chapters by prominent scholars on each topic and subfield make this a unique, landmark publication."
Walt Wolfram, North Carolina State University
This second edition of The Handbook of Linguistics provides an updated and timely overview of the field of linguistics. The editor's broad definition of the field ensures that the book may be read by those seeking a comprehensive introduction to the subject, but with little or no prior knowledge of the area.
Building on the popular first edition, The Handbook of Linguistics, Second Edition features new and revised content reflecting advances within the discipline. New chapters expand the already broad coverage of the Handbook to address and take account of key changes within the field in the intervening years. It explores: psycholinguistics, linguistic anthropology and ethnolinguistics, sociolinguistic theory, language variation and second language pedagogy. With contributions from a global team of leading linguists, this comprehensive and accessible volume is the ideal resource for those engaged in study and work within the dynamic field of linguistics.
See More
List of Contributors ix
Preface to the Second Edition xi
Preface to the First Edition xiii
List of Abbreviations xvii
PART I Starting Points 1
1. Origins of Language
Andrew Carstairs-McCarthy 3
2. Languages of the World
Bernard Comrie 21
3. Typology and Universals
William Croft 39
4. Field Linguistics: Gathering Language Data from Native Speakers
Pamela Munro 57
5. Writing Systems
Peter T. Daniels 75
PART II Theoretical Bases 95
6. The History of Linguistics: Approaches to Linguistics
Lyle Campbell 97
7. Generative Grammar: Rule Systems for Describing Sentence Structure
Thomas Wasow 119
8. Functional Linguistics: Communicative Functions and Language Structure
Robert D. Van Valin, Jr. 141
PART III Core Fields 159
9. Linguistic Phonetics: The Sounds of Languages
John Laver 161
10. Phonology: Sound Structure
Abigail C. Cohn 185
11. Morphology
Andrew Spencer 211
12. The Lexicon
D. A. Cruse 235
13. Syntax
Mark C. Baker 255
14. Formal Semantics
Shalom Lappin 279

15. Historical Linguistics: Language Change Over Time
Brian D. Joseph 299
PART IV Languages and the Mind 321
16. Neurolinguistics
David Caplan 323
17. Psycholinguistics
Kiel Christianson 345
18. Sign Languages
Wendy Sandler and Diane Lillo-Martin 371
19. First Language Acquisition
Brian MacWhinney 397
PART V Languages in Use 415
20. Pragmatics: Language and Communication
Ruth Kempson 417
21. Discourse Analysis
Agnes Weiyun He 445
22. Linguistics and Literature
Nigel Fabb 463
23. Linguistic Anthropology and Ethnolinguistics
Steven P. Black and Elizabeth A. Falconi 479
24. Sociolinguistic Theory: Systematic Study of the Social Uses of Language
J. K. Chambers 505
25. Language Variation: Sociolinguistic Variationist Analysis
Kirk Hazen 519

26. Multilingualism
Suzanne Romaine 541
27. Second Language Acquisition: One Person with Two Languages
Vivian Cook 557

PART VI Applications of Linguistics 583
28. Second Language Pedagogy: Where Theory Meets Practice
Janie Rees-Miller 585
29. Educational Linguistics
James Paul Gee 603
30. Linguistics and Reading
Rebecca Treiman 617
31. Language and Law
Roger W. Shuy 627
32. Translation
Christoph Gutknecht 645
33. Language Planning and Policy
Kathryn D. Stemper and Kendall A. King 655
Index 675
See More
Mark Aronoff is Distinguished Professor of Linguistics at the State University of New York at Stony Brook, USA. His research touches on almost all aspects of morphology and its relation to other aspects of language. He is a member of a team studying a newly-created sign language, Al-Sayyid Bedouin Sign Language, and he has served as Editor of Language, the Journal of the Linguistic Society of America, and as President of the Society. He is a Fellow of the American Academy of Arts and Sciences.
Janie Rees-Miller holds the William R. and Marie Adamson Flesher Chair in the Humanities. She established the ESL Program at Marietta College, USA and has served as its director for over 20 years. She has also taught linguistics courses for undergraduates and acted as an editor with Mark Aronoff of Contemporary Linguistics (2009), now in its seventh edition. Her research interests include second language pedagogy, pragmatics, Native American languages, and making linguistics accessible to non-linguists.
See More
More in this series