Marine Geochemistry, 3rd Edition
ISBN: 978-1-4051-8734-3
420 pages
October 2012, Wiley-Blackwell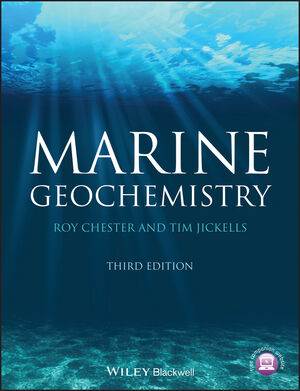 Marine Geochemistry
offers a fully comprehensive and integrated treatment of the chemistry of the oceans, their sediments and biota. The first edition of the book received strong critical acclaim and was described as '
a standard text for years to come
.' This third edition of
Marine Geochemistry
has been written at a time when the role of the oceans in the Earth System is becoming increasingly apparent.
 Following the successful format adopted previously, this new edition treats the oceans as a unified entity, and addresses the question 'how do the oceans work as a chemical system?'  To address this question, the text has been updated to cover recent advances in our understanding of topics such as the carbon chemistry of the oceans, nutrient cycling and its effect on marine chemistry, the acidification of sea water, and the role of the oceans in climate change. In addition, the importance of shelf seas in oceanic cycles has been re-evaluated in the light of new research.
Marine Geochemistry offers both undergraduate and graduate students and research workers an integrated approach to one of the most important reservoirs in the Earth System.

Additional resources for this book can be found at: www.wiley.com/go/chester/marinegeochemistry.
See More
Preface to the third edition vii
1 Introduction 1
Part I The Global Journey: Material Sources 7
2 The input of material to the ocean reservoir 9
3 The transport of material to the oceans: the fluvial pathway 11
4 The transport of material to the oceans: the atmospheric pathway 52
5 The transport of material to the oceans: the hydrothermal pathway 83
6 The transport of material to the oceans: relative fl ux magnitudes 92
Part II The Global Journey: The Ocean Reservoir 125
7 Descriptive oceanography: water-column parameters 127
8 Air–sea gas exchange 154
9 Nutrients oxygen organic carbon and the carbon cycle in seawater 163
10 Particulate material in the oceans 208
11 Trace elements in the oceans 223
12 Down-column fl uxes and the benthic boundary layer 253
Part III The Global Journey: Material Sinks 271
13 Marine sediments 273
14 Sediment interstitial waters and diagenesis 290
15 The components of marine sediments 321
16 Unscrambling the sediment-forming chemical signals 352
Part IV The Global Journey: Synthesis 389
17 Marine geochemistry: an overview 391
Index 405
Colour plate pages fall between pp. 216 and 217.
See More
Roy Chester
recently retired from his post as the Proudman Professor of Oceanography in what was then the Department of Earth Sciences at the University of Liverpool. During his career he wrote over 140 scientific publications, and in 1999 was awarded the Hans Pettersson Bronze Medal by the Royal Swedish Academy of Sciences. He is also the author of '
Furnace of Creation, Cradle of Destruction - A journey to the birthplace of Earthquakes, Volcanoes and Tsunamis
'.
Tim Jickells is a marine biogeochemist with over 150 publications. He has been based at the University of East Anglia for more than 25 years and before that worked in Bermuda and Scotland. His main research interests are in atmospheric inputs to the oceans and coastal nutrient cycling and his field work has included tropical, temperate and polar environments. He was awarded the Challenger medal in 2006.
See More
"The third edition of Marine Geochemistry is an invaluable resource for a wide range of readers from undergraduates to researchers, providing a concise up to date summary of the interplay of chemical and biological factors that control ocean cheamistry."  (Journal of Geological Magazine, 1 August 2013
"Highly recommended.  Upper-division undergraduates through professionals in marine sciences."  (Choice, 1 May 2013)
See More