A Companion to Irish Literature, 2 Volume Set
ISBN: 978-1-4051-8809-8
Hardcover
1000 pages
December 2010, Wiley-Blackwell
US $427.00

Add to Cart
This price is valid for United States. Change location to view local pricing and availability.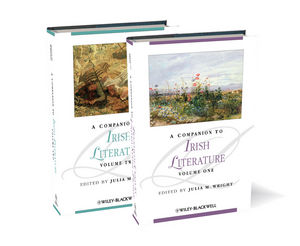 Other Available Formats:
E-book
VOLUME I.
Acknowledgments
Notes on Contributors.
Introduction (Julia M. Wright, Dalhousie University).
Part I: The Middle Ages.
1. Táin Bó Cúailnge (Ann Dooley, University of Toronto).
2. Finn and the Fenian Tradition (Joseph Falaky Nagy, University of California, Los Angeles).
3. The Reception and Assimilation of Continental Literature (Barbara Lisa Hillers, Harvard University).
Part II: The Early Modern Era.
4. Bardic Poetry, Masculinity, and the Politics of Male Homosociality (Sarah E. McKibben, University of Notre Dame).
5. Annalists and Historians in Early Modern Ireland, 1450—1700 (Bernadette Cunningham, Royal Irish Academy, Dublin).
6. "Hungry Eyes" and the Rhetoric of Dispossession: English Writing from Early Modern Ireland (Patricia Palmer, King's College London).
7. Kinds of Irishness: Henry Burnell and Richard Head (Deana Rankin, Royal Holloway, University of London).
Part III: The Eighteenth Century.
8. Crossing Acts: Irish Drama from George Farquhar to Thomas Sheridan (Helen M. Burke, Florida State University).
9. Parnell and Early Eighteenth-Century Irish Poetry (Andrew Carpenter, University College Dublin).
10. Jonathan Swift and Eighteenth-Century Ireland (Clement Hawes, University of Michigan).
11. Merriman's Cúirt An Mheonoíche and Eighteenth-Century Irish Verse (Liam P. Ó Murchú, National University of Ireland, Cork).
12. Frances Sheridan and Ireland (Kathleen M. Oliver, University of Central Florida).
13. "The Indigent Philosopher": Oliver Goldsmith (James Watt, University of York).
14. Edmund Burke (Luke Gibbons, National University of Ireland, Maynooth).
15. The Drama of Richard Brinsley Sheridan (Robert W. Jones, University of Leeds).
Part IV: The Romantic Period.
16. United Irish Poetry and Songs (Mary Helen Thuente, North Carolina State University).
17. Maria Edgeworth and (Inter)national Intelligence (Susan Manly, University of St Andrews).
18. Mary Tighe: A Portrait of the Artist for the Twenty-First Century (Harriet Kramer Linkin, New Mexico State University).
19. Thomas Moore: After the Battle (Jeffery Vail, Boston University).
20. The Role of the Political Woman in the Writings of Lady Morgan, Sydney Owenson (Susan B. Egenolf, Texas A&M University).
Part V: The Rise of Gothic.
21. Charles Robert Maturin: Ireland's Eccentric Genius (Robert Miles, University of Victoria).
22. Joseph Sheridan Le Fanu: Gothic Grotesque and the Huguenot Inheritance (Alison Milbank, University of Nottingham).
23. A Philosophical Home Ruler: The Imaginary Geographies of Bram Stoker (Lisa Hopkins, Sheffield Hallam University).
Part VI: The Victorian Era.
24. Scribes and Storytellers: The Ethnographic Imagination in Nineteenth-Century Ireland (Stiofán O'Cadhla, University College Cork).
25. Reconciliation and Emancipation: The Banims and Carleton (Helen O'Connell, Durham University).
26. Davis, Mangan, Ferguson: Irish Poetry, 1831-1849 (Matthew Campbell, University of Sheffield).
27. The Great Famine in Literature, 1846 -1896 (Melissa Fegan, University of Chester).
28. Dion Boucicault: From Stage Irishman to Staging Nationalism (Scott Boltwood, Emory & Henry College).
29. Oscar Wilde's Convictions, Speciesism, and the Pain of Individualism (Dennis Denisoff, Ryerson University, Toronto).
VOLUME TWO.
Introduction (Julia M. Wright, Dalhousie University).
Part VII: Transitions: Victorian, Revival, Modern.
30. Cultural Nationalism and Irish Modernism (Michael Mays, University of Southern Mississippi).
31. Defining Irishness: Bernard Shaw and the Irish Connection on the English Stage (Christopher Innes, York University, Toronto).
32. The Novels of Somerville and Ross (Vera Kreilkamp, Pine Manor College).
33. W.B. Yeats and the Dialectics of Misrecognition (Gregory Castle, Arizona State University).
34. John Millington Synge -- Playwright and Poet (Ann Saddlemyer, University of Toronto).
35. James Joyce and the Creation of Modern Irish Literature (Michael Patrick Gillespie, Florida International University).
Part VIII: Developments in Genre and Representation after 1930.
36. The Word of Politics/Politics of the Word: Immanence and Transdescendence in Sean O'Casey and Samuel Beckett (Sandra Wynands, Zayed University, Dubai).
37. Elizabeth Bowen: A Home in Writing (Eluned Summers-Bremner, University of Auckland, New Zealand).
38. Changing Times: Frank O'Connor and Seán O'Faoláin (Paul Delaney, Trinity College Dublin).
39. "Ireland is small enough": Louis MacNeice and Patrick Kavanagh (Alan Gillis, University of Edinburgh).
40. Irish Mimes: Flann O'Brien (Joseph Brooker, Birkbeck College, University of London).
Part IX: Debating Social Change after 1960.
41. Reading William Trevor and Finding Protestant Ireland (Gregory A. Schirmer, University of Mississippi).
42. The Mythopoeic Ireland of Edna O'Brien's Fiction (Maureen O'Connor, Mary Immaculate College, Limerick).
43. Anglo-Irish Conflict in Jennifer Johnston's Fiction (Silvia Diez Fabre, University of Burgos, Spain).
44. Living History: The Importance of Julia O'Faolain's Fiction (Christine St Peter, University of Victoria, Canada).
45. Holding a Mirror Up to a Society in Evolution: John McGahern (Eamon Maher, Institute of Technology, Tallaght, Dublin).
Part X: Contemporary Literature: Print, Stage, and Screen.
46. Brian Friel: From Nationalism to Post-Nationalism (F.C. McGrath, University of Southern Maine).
47. Telling the Truth Slant: The Poetry of Seamus Heaney (Eugene O'Brien, Mary Immaculate College, University of Limerick).
48. Belfast Poets: Michael Longley, Derek Mahon, and Medbh McGuckian (Richard Rankin Russell, Baylor University, Texas).
49. Eiléan Ní Chuilleanáin's Work of Witness (Guinn Batten).
50. Eavan Boland's Muse Mothers (Heather Clark, Marlboro College, Vermont).
51. John Banville's Dualistic Universe (Elke D'hoker, University of Leuven, Belgium).
52. Between History and Fantasy: The Irish Films of Neil Jordan (Brian McIlroy, University of British Columbia).
53. "Keeping That Wound Green": The Poetry of Paul Muldoon (David Wheatley, University of Hull).
54. Nuala Ní Dhomhnaill and the "Continuously Contemporary" (Frank Sewell, University of Ulster).
55. The Anxiety of Influence and the Fiction of Roddy Doyle (Danine Farquharson, Memorial University, St John's, Newfoundland).
56. The Reclamation of "Injurious Terms" in Emma Donoghue's Fiction (Jennifer M. Jeffers, Cleveland State University).
57. Martin McDonagh and the Ethics of Irish Storytelling (Patrick Lonergan, National University of Ireland, Galway).
Index.
Buy Both and Save 25%!
A Companion to Irish Literature, 2 Volume Set (US $427.00)
-and- A Companion to the American Novel (US $207.95)
Total List Price: US $634.95
Discounted Price: US $476.21 (Save: US $158.74)
Cannot be combined with any other offers. Learn more.