Governance and Knowledge Management for Public-Private Partnerships
ISBN: 978-1-4051-8855-5
264 pages
March 2010, Wiley-Blackwell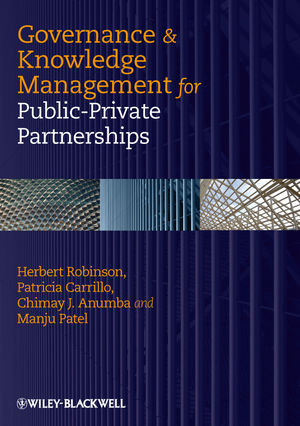 "The book not only gives a clear picture of the policy and strategic framework of PFI/PPP projects, the governance and knowledge management issues through different phases from planning, design development to operation and service delivery and the processes associated with each phase, but practical tools, methodologies and capabilities needed to deliver PFI/PPP projects in a range of sectors are also explained. It clearly demonstrates the key imperatives that are the hallmark of successful programmes and projects no matter what there method of funding or delivery.
I have no doubt that, in undertaking the programmes and projects that I am responsible for delivering and in undertaking OGC Gateway Reviews, to support clients delivering their own programmes and projects, I will draw on the material contained in this book."
—From the Foreword by Rob Smith, Director of Gateway Reviews and Estates & Facilities, Department of Health
There is a growing demand worldwide for transport, healthcare, education, energy and water infrastructure. However, government resources are often insufficient to meet the needs of new projects and to upgrade existing infrastructure. Private participation in public infrastructure is therefore increasing but the respective roles of the public and private sectors are the subject of intense debate. This has led to renewed interest in public-private partnerships in developed and developing countries.
Governance and Knowledge Management for Public-Private Partnerships shows how effective governance and knowledge management can improve the performance of PFI/PPP projects. It provides an in-depth understanding of different dimensions of governance and how they affect project management structure, processes, and decision-making ability of actors and teams involved in PFI/PPP projects. The role of knowledge management strategy, the need for benchmarking knowledge management efforts, specific tools and methodologies for capturing, sharing and applying knowledge to accelerate learning and capacity building are also examined.
The book is essential reading for all those involved in PFI/PPP projects, including policy makers, industry practitioners, academics and students. The practical tools for governance and knowledge management it offers make this book particularly useful for consultants, contractors and client organisations.
See More
Foreword
About the Authors
Chapter 1 Introduction
1.1 The Context
1.2 Key Drivers of PPP/PFI
1.3 Definitions and Key Features
1.4 Types of PPP/PFI Projects
1.5 Evolution and Development of PPP/PFI
1.6 Need for Governance and Knowledge Management
1.7 Organisation of the Chapters
1.7.1 Part 1
1.7.2 Part 2
1.7.3 Part 3
1.7.4 Part 4
References
Chapter 2 Policy and Strategic Framework
2.1 Introduction
2.2 The Policy Framework
2.2.1 Policy environment
2.2.2 Policy theory and objectives
2.2.3 Monitoring and evaluation
2.2.4 Institutions and roles
2.2.5 Expertise and resources
2.2.6 Processes
2.2.7 Information and knowledge systems
2.3 Governing Principles of PFI Projects
2.3.1 Value for money and risk transfer
2.3.2 Whole life cycle commitment
2.3.3 Facilitating the delivery of 'core' public services
2.3.4 Payments for services based on performance
2.4 Management Strategy
2.4.1 Team composition
2.4.2 Contract and interface management
2.4.3 Stakeholder engagement
2.5 Funding Strategy
2.5.1 Debt and equity component
2.5.2 Project structuring, bankability and credit enhancement
2.6 Sustainability Strategy
2.7 European and International Perspective
2.8 Concluding Remarks
References
Chapter 3 Implementation and Delivery Mechanisms
3.1 Introduction
3.2 Needs Assessment and Business Case Development
3.2.1 The output specification
3.2.2 Risk transfer
3.2.3 Risk pricing
3.3 Advertisement, Pre-Qualification and Bidding
3.4 Competitive Negotiation and Dialogue Procedures
3.5 Evaluation of Bids
3.5.1 Value for money
3.5.2 Affordability
3.6 Preferred Bidder and Financial Close
3.6.1 Whole life cost plan
3.6.2 Financial modelling
3.6.3 Due diligence
3.7 Construction Activities
3.8 Operation and Service Delivery
3.8.1 Performance monitoring
3.8.2 Payment mechanism
3.8.3 Handing back
3.9 Concluding Remarks
References
Chapter 4 Governance in Project Delivery
4.1 Introduction
4.2 Definitions and Principles of Governance
4.3 Key Components of Governance
4.3.1 Organisational structure
4.3.2 Control and monitoring mechanisms
4.4 Planning and Development Phase of PPP/PFI Project
4.4.1 Organisational structure and accountability
4.4.2 Project approval processes
4.4.3 Project controls and gateways
4.4.4 Post-project evaluation
4.5 Construction Phase of PPP/PFI Projects
4.5.1 Design controls for construction
4.5.2 Project management
4.5.3 Project performance
4.6 Operation and Service Delivery Phase of PPP/PFI Project
4.6.1 Control and monitoring of service delivery
4.6.2 Organisational structure
4.7 Concluding Remarks
References
Chapter 5 Case Studies on Governance in the Health Sector
5.1 Introduction
5.2 Overview of Health Sector and Evolution of PFI/PPP Projects
5.3 Case Study Findings on Early PFI Schemes
5.4 Case Study Findings on Complex PFI Schemes
5.5 Analysis and Discussion of Case Studies (5.1–5.4)
5.5.1 Reporting structure and levels of responsibilities
5.5.2 Effective controls
5.5.3 Project management
5.5.4 Risk management
5.5.5 Critical success factors (CSF) in projects
5.5.6 Critical failure factors in projects
5.5.7 Project outcome
5.6 Concluding Remarks
References
Chapter 6 Knowledge Management in Collaborative Projects
6.1 Introduction
6.2 Knowledge and Associated Concepts
6.3 Knowledge Management
6.4 Theory of Knowledge Creation
6.5 Types of Knowledge and Project Complexity
6.6 KM Life Cycle
6.7 KM Systems
6.7.1 KM technologies
6.7.2 KM techniques
6.8 Learning in Project Organisations
6.9 Developing a Business Case for KM
6.10 Development of a KM Strategy
6.11 KM Toolkit for PFI/PPP Projects
6.12 Concluding Remarks
References
Chapter 7 Case Studies on Knowledge Transfer
7.1 Introduction
7.2 Key Problem Areas and Scope for Learning
7.2.1 Outline business case
7.2.2 PB
7.2.3 FM
7.3 The Need for Knowledge Transfer
7.4 Improvement Capability and Organisational Readiness
7.5 Concluding Remarks
References
Chapter 8 Knowledge and Capacity Building Challenges
8.1 Introduction
8.2 Roles and Participation
8.3 Motivation and Perception
8.4 Value for Money, Costs, Innovation and Risks
8.5 Enablers and Barriers
8.5.1 Expertise and knowledge
8.5.2 Procurement periods
8.5.3 Other barriers
8.5.4 Unique PFI issues
8.6 Scope for Learning and Developing Knowledge
8.6.1 Output specification and client requirements
8.6.2 Project management structure
8.6.3 Risks
8.6.4 Design innovation/quality
8.6.5 Standardisation of documents
8.6.6 Market capacity and public perception
8.7 Developing Knowledge for Capacity Building
8.7.1 Knowledge centres
8.7.2 Dedicated PPP units
8.7.3 Best practice and guidance documents
8.7.4 Traditional training and CPD events
8.7.5 Knowledge sharing networks and communities of practice
8.7.6 Conferences, seminars and workshops
8.7.7 Staff exchange and secondment
8.7.8 External advisers and technical assistance
8.7.9 Research and innovation capacity
8.8 Concluding Remarks
References
Chapter 9 The Knowledge Transfer Framework
9.1 Introduction
9.2 Knowledge Transfer Issues
9.2.1 Knowledge transfer needs
9.2.2 Types of knowledge to transfer
9.2.3 Mechanisms for knowledge transfer
9.2.4 Knowledge transfer problems
9.3 The Knowledge Transfer Conceptual Model
9.4 Improving PFI/PPP Participation and Exploring Opportunities (Stage 1)
9.5 Building a Knowledge Map and Transfer Capability (Stage 2)
9.6 Creating an Action Plan for Learning and Capacity Building (Stage 3)
9.7 Evaluation of Framework
9.8 Industrial Application, Dissemination and Benefits
9.9 Concluding Remarks
References
Chapter10 Conclusion
10.1 Governance Issues
10.2 Knowledge Management and Capacity Building Issues
10.3 Sustainability of PFI/PPP Projects
Reference
Appendix A An Example of Output Specification (Accommodation Standard)
Appendix B1 Output Specification (Facilities Management Standard)
Appendix B2 Example of Performance Parameters (Car Park)
Appendix C Performance Measurement System
Index
See More
Dr Herbert Robinson
is Reader in Construction Economics and Project Management at London South Bank University, UK.
Professor Patricia Carrillo holds a personal chair in Strategic Management in Construction, in the Department of Civil and Building Engineering at Loughborough University, UK.
Professor Chimay J. Anumba is Head of the Department of Architectural Engineering at Penn State University, USA.
Dr Manju Patel is Acute Sector Planning Lead at NHS Grampian in Scotland, UK and holds a council seat in the Institute of Health Engineering and Estates Management.
See More