Formed From This Soil: An Introduction to the Diverse History of Religion in America
ISBN: 978-1-4051-8927-9
464 pages
December 2014, Wiley-Blackwell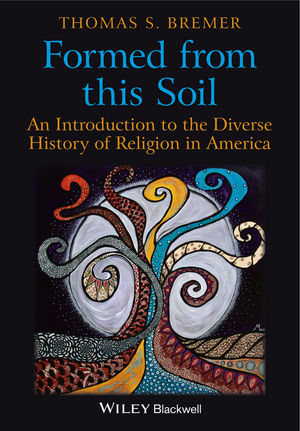 Formed from This Soil offers a complete history of religion in America that centers on the diversity of sacred traditions and practices that have existed in the country from its earliest days.
Organized chronologically starting with the earliest Europeans searching for new routes to Asia, through to the global context of post-9/11 America of the 21st century
Includes discussion of race, ethnicity, gender, sexual orientation, socio-economic class, political affiliations, and other elements of individual and collective identity
Incorporates recent scholarship for a nuanced history that goes beyond simple explanations of America as a Protestant society
Discusses diverse beliefs and practices that originated in the Americas as well as those that came from Europe, Asia, and Africa
Pedagogical features include numerous visual images; sidebars with specialized topics and interpretive themes; discussion questions for each chapter; a glossary of common terms; and lists of relevant resources to broaden student learning
See More
Acknowledgments x
Prelude for Instructors: A Decentered Narrative of American Religious History xii
Beginnings: The Diversity of Religion in America 1
Part I New Worlds 11
1 Encounters 13
African Encounters 20
European Conquests in America 27
Native Encounters 39
New Worlds of Contact 47
2 Reformations 52
Religious Upheavals 56
Colonizing America 69
Reforming Native Religions of America and Africa 80
New Worlds of Reformed Authorities 85
3 Conflicts and Persecutions 90
Native Revolutions 92
Improvements upon the Land 103
Captivities 108
The Diversity of Religious Conflicts 117
4 Resistance, Revival, and Revolution 122
Resisting Slavery 125
Reviving Religious Fervor 129
A New Nation 137
The Limits of Liberty 145
Part II The New Nation 153
5 An Expanding Nation 155
America in the Pacific World 160
A New Awakening 169
A Nation Enslaved 176
Expansion 184
6 The Many Religious Voices 189
Women's Voices 193
Displaced Voices 199
Immigrant Voices 206
Restorationist Voices 212
The Diversity of Religious Voices in America 223
7 One Nation 231
Spiritual Purposes 235
A Nation Divided 239
The Nation at War 252
Reconstructing the Nation 254
Diverse Voices of the Unified Nation 260
8 Changing Society 267
New Lands 270
New People 279
New Religious Ways 294
America's Double Consciousness 301
Part III The Modern World 309
9 Modern Worlds 311
Science 313
Religious Responses to Modern Sciences 318
Migrations 329
Global America 342
10 Cold War and Civil Rights 349
Religion of the Nation 352
Clash of Classes 359
Confronting Racial Apartheid 368
Liberated People 378
11 A Spiritual Nation 385
Spiritual Immigrants 388
Religious Bodies 398
Spiritual Borderlands 405
Religious America 411
12 Crossing Borders 418
Rethinking America and Religion 421
Glossary 427
Index 431
See More
Thomas S. Bremer is Associate Professor of Religious Studies at Rhodes College in Memphis, Tennessee.  A historian of religions in the Americas, his research focuses on religion and culture, with special emphasis on tourism. He is the author of Blessed with Tourists: The Borderlands of Religion and Tourism in San Antonio (2004) and has published a number of articles on religion and tourism in the United States and elsewhere. 
See More