A Companion to the Archaeology of the Ancient Near East
ISBN: 978-1-4051-8988-0
Hardcover
1500 pages
May 2012, Wiley-Blackwell
US $400.00

Add to Cart
This price is valid for United States. Change location to view local pricing and availability.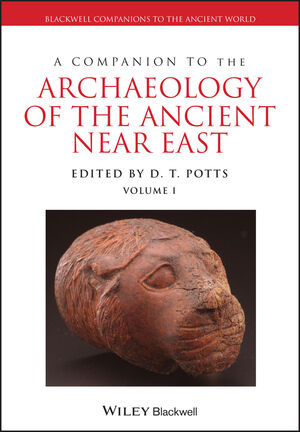 Other Available Formats:
E-book
VOLUME I
List of Illustrations x
List of Tables xvii
Notes on Contributors xviii
Preface xxviii
Maps xxxii
I The Framework 1
1 Introduction to Geography, Climate, Topography, and Hydrology 3
T.J. Wilkinson
2 Antiquarianism, Copying, Collecting 27
Mark B. Garrison
3 Early Excavations (pre-1914) 48
Nicole Chevalier
4 The Foundations of Antiquities Departments 70
Peter Magee
5 The Political Dimension of Archaeological Practices 87
Reinhard Bernbeck
6 The Antiquities Trade and the Destruction of Ancient Near Eastern Cultures 106
Oscar White Muscarella
II Late Pleistocene and Early Holocene Hunters and Gatherers 125
7 The Levant 127
Alan H. Simmons
8 Anatolia 144
Klaus Schmidt
III Developments in Farming, Animal Husbandry, and Technology 161
9 The Beginnings of Cereal Cultivation and Domestication in Southwest Asia 163
George Willcox
10 Fruit-Growing 181
Margareta Tengberg
11 Animals in the Ancient World 201
Benjamin S. Arbuckle
12 Fish and Fishing 220
D.T. Potts
13 Lithic Industries During the Holocene Period 236
Steven A. Rosen
14 Irrigation 261
Ariel M. Bagg
15 Ceramic Production 279
Cameron A. Petrie
16 Metallurgy 295
Lloyd Weeks
17 Glass 317
Wendy Reade
18 Textiles 336
Irene Good
19 Watercraft 347
R.A. Carter
IV Varieties of Early Village and Town Life 373
20 The Northern Levant 375
Karin Bartl
21 The Southern Levant 396
E.B. Banning
22 Northern Mesopotamia 415
Stuart Campbell
23 The Late Epipaleolithic, Neolithic, and Chalcolithic of the Anatolian Plateau, 13,000–4000 BC 431
Douglas Baird
24 Southern Mesopotamia 466
Joan Oates
25 The Arabian Peninsula 485
Philipp Drechsler
26 The Iranian Plateau 501
Barbara Helwing
27 Southwestern Iran 512
Abbas Moghaddam
V Bronze Age Cities of the Plains and the Highlands 531
28 Southern Mesopotamia 533
Jason Ur
29 Northern Mesopotamia 556
Timothy Matney
30 The Anatolian Plateau 575
Christoph Bachhuber
31 Iran 596
Christopher P. Thornton
32 The Northern Levant 607
Hermann Genz
33 The Southern Levant 629
Timothy P. Harrison
VOLUME II
List of Illustrations x
List of Tables xii
Maps xiii
VI The Archaeology of Empire 647
34 The Akkadian Period: Empire, Environment, and Imagination 649
Augusta McMahon
35 The Caucasus and the Near East 668
Adam T. Smith
36 Central Asia, the Steppe, and the Near East, 2500–1500 BC 687
Michael D. Frachetti and Lynne M. Rouse
37 The Ur III, Old Babylonian, and Kassite Empires 706
Marlies Heinz
38 The Hittite Empire 722
Trevor Bryce
39 Elam: Iran's First Empire 740
Javier Álvarez-Mon
40 India's Relations with Western Empires, 2300–600 BC 758
Gregory L. Possehl
41 Levantine Kingdoms of the Late Bronze Age 770
Peter Pfälzner
42 Neo-Hittite and Phrygian Kingdoms of North Syria and Anatolia 797
Ann C. Gunter
43 North Arabian Kingdoms 816
Arnulf Hausleiter
44 Egypt and the Near East 833
Thomas Hikade
45 The Assyrian Heartland 851
Friedhelm Pedde
46 The Assyrians Abroad 867
Bradley J. Parker
47 The Urartian Empire 877
Alina Ayvazian
48 Iron Age Western Anatolia: The Lydian Empire and Dynastic Lycia 896
Christopher H. Roosevelt
49 The Neo-Babylonian Empire 914
Heather D. Baker
50 The Achaemenid Heartland: An Archaeological-Historical Perspective 931
Wouter F.M. Henkelman
51 The Achaemenid Provinces in Archaeological Perspective 963
Lori Khatchadourian
52 The Seleucid Kingdom 984
Lise Hannestad
53 The Arsacid (Parthian) Empire 1001
Stefan R. Hauser
54 Roman Rule in the Near East 1021
Bettina Fischer-Genz
55 The Red Sea and Indian Ocean in the Age of the Great Empires 1041
Steven E. Sidebotham
56 Byzantium in Asia Minor and the Levant 1060
Basema Hamarneh
57 The Sasanian Empire: An Archaeological Survey, c.220–AD 640 1076
Ali Mousavi and Touraj Daryaee
58 Christianity in the Late Antique Near East 1095
Cornelia Horn and Erica C.D. Hunter
Abbreviations 1113
References 1117
Index 1380
Buy Both and Save 25%!
A Companion to the Archaeology of the Ancient Near East (US $400.00)
-and- A Companion to Sophocles (US $207.95)
Total List Price: US $607.95
Discounted Price: US $455.96 (Save: US $151.99)
Cannot be combined with any other offers. Learn more.