The Encyclopedia of Political Thought
ISBN: 978-1-4051-9129-6
4360 pages
October 2014, Wiley-Blackwell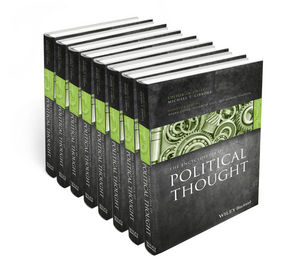 The Encyclopedia of Political Thought is the most comprehensive and rigorous treatment of significant political thinkers, political theories, concepts, ideas, and schools of thought.
Comprises over 900 A-Z entries, including brief definitions, biographies, and major topics, written by a team of 700 contributors from around the world

Explores key theories and theorists, including non-western perspectives, in tracing the evolution of political thought from antiquity to the present day

Published in association with The Foundations of Political Theory, an organized section of the American Political Science Association
8 Volumes
See More
Editor-in-Chief Michael Gibbons is Associate Professor of Government and International Affairs at the University of South Florida. He received his doctorate degree from the University of Massachusetts in 1983 with foci on political theory and political economy. He has taught at Siena College and Boston University, as well as at Masaryk University in the Czech Republic as part of the Fulbright Program. He is the author of various articles, chapters, and reviews on contemporary political theory and American political thought. He is co-editor (with Wilson Carey McWilliams) of The Federalists, the Antifederalists and the American Political Tradition (1992) and editor of Interpreting Politics (1987).
See More