Lecture Notes: Psychiatry, 10th Edition
ISBN: 978-1-4051-9137-1
240 pages
August 2010, Wiley-Blackwell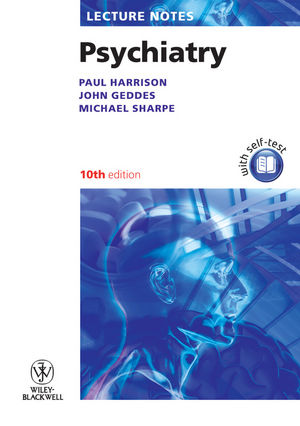 Unsure how to 'do' psychiatry?
Wondering what psychiatry is all about?
Want just the key facts?
Lecture Notes: Psychiatry provides essential, practical, and up-to-date information for students who are learning to conduct psychiatric interviews and assessments, understand the core psychiatric disorders, their aetiology and evidence-based treatment options.
It incorporates the latest NICE guidelines and systematic reviews, and includes coverage of the Mental Capacity Act and the new Mental Health Act. Featuring case studies throughout, it is perfect for clinical preparation with example questions to ask patients during clinical rotations.
Each chapter features bulleted key points, while the summary boxes and self-test MCQs ensure Lecture Notes: Psychiatry is the ideal resource, whether you are just beginning to develop psychiatric knowledge and skills or preparing for an end-of-year exam.
See More
Preface, vi
1 Getting started 1
2 The core psychiatric assessment 6
3 Psychiatric assessment modules 16
4 Risk: harm, self-harm and suicide 37
5 Completing and communicating the assessment 43
6 Aetiology 51
7 Treatment 60
8 Psychiatric services and specialties 85
9 Mood disorders 92
10 Neurotic, stress-related and somatoform disorders 106
11 Eating, sleep and sexual disorders 118
12 Schizophrenia 128
13 Organic psychiatric disorders 142
14 Substance misuse 157
15 Personality disorders 168
16 Childhood disorders 176
17 Learning disability (mental retardation) 189
18 Psychiatry in other settings 196
Multiple choice questions, 202
Answers to multiple choice questions, 208
Appendix 1: ICD-10 classifi cation of psychiatric disorders, 213
Appendix 2: Keeping up to date and evidence based, 214
Further reading, 215
Index, 219
See More
Professor Paul Harrison, FRC Psych, Professor Paul Geddes, FRC Psych, and Dr Michael Sharpe, MRC Psych, are all experienced teachers in psychiatry and psychological medicine. Professors Harrison and Geddes are both based at the Warneford Hospital in Oxford where they teach the psychiatry attachment for medical students at Oxford University, and Dr Sharpe is Reader in Psychological Medicine at the University of Edinburgh.
See More
More in this series

Learn more about