Geography and Ethnography: Perceptions of the World in Pre-Modern Societies
ISBN: 978-1-4051-9146-3
Hardcover
376 pages
February 2010, Wiley-Blackwell
US $150.95

Add to Cart
This price is valid for United States. Change location to view local pricing and availability.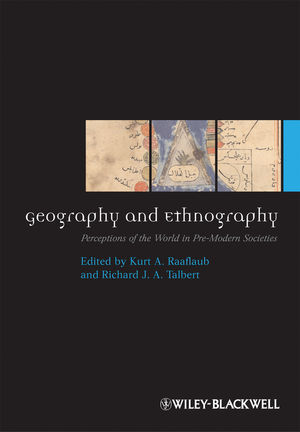 List of Figures.
Notes on Contributors.
Series Editor's Preface.
1 Introduction (Richard J. A. Talbert, University of North Carolina, Chapel Hill and Kurt A. Raaflaub, Brown University).
2 Where the Black Antelope Roam: Dharma and Human Geography in India (Christopher Minkowski, University of Oxford ).
3 Humans, Demons, Gods and Their Worlds: The Sacred and Scientific Cosmologies of India (Kim Plofker, Union College in Schenectady NY).
4 Structured Perceptions of Real and Imagined Landscapes in Early China (Hsin-Mei Agnes Hsu, China Institute in New York ).
5 Nonary Cosmography in Ancient China (John B. Henderson, Louisiana State University, Baton Rouge ).
6 Knowledge of Other Cultures in China's Early Empires (Michael Loewe, University of Cambridge, retired ).
7 The Mississippian Peoples' Worldview (Kathleen DuVal, University of North Carolina, Chapel Hill ).
8 Aztec Geography and Spatial Imagination (Barbara E. Mundy, Fordham University ).
9 Inca Worldview (Catherine Julien, Western Michigan University ).
10 Masters of the Four Corners of the Heavens: Views of the Universe in Early Mesopotamian Writings (Piotr Michalowski, University of Michigan ).
11 The World and the Geography of Otherness in Pharaonic Egypt (Gerald Moers, University of Göttingen ).
12 On Earth As in Heaven: The Apocalyptic Vision of World Geography from Urzeit to Endzeit According to the Book of Jubilees (James M. Scott, Trinity Western University, British Columbia ).
13 I Know the Number of the Sand and the Measure of the Sea': Geography and Difference in the Early Greek World (Susan Guettel Cole, State University of New York, Buffalo ).
14 Continents, Climates, and Cultures: Greek Theories of Global Structure (James Romm, Bard College ).
15 The Geographical Narrative of Strabo of Amasia (Daniela Dueck, Bar Ilan University, Israel ).
16 The Roman Worldview: Beyond Recovery? (Richard J. A. Talbert, University of North Carolina, Chapel Hill ).
17 The Medieval Islamic Worldview: Arabic Geography in Its Historical Context (Adam J. Silverstein, University of Oxford ).
18 The Book of Curiosities: An Eleventh-Century Egyptian View of the Lands of the Infidels (Emilie Savage-Smith, University of Oxford, St Cross College ).
19 Geography and Ethnography in Medieval Europe: Classical Traditions and Contemporary Concerns (Natalia Lozovsky, Independent Scholar ).
20 Europeans Plot the Wider World, 1500–1750 (David Buisseret, University of Texas at Arlington, retired ).
Index.