A Companion to Popular Culture
ISBN: 978-1-4051-9205-7
608 pages
May 2016, Wiley-Blackwell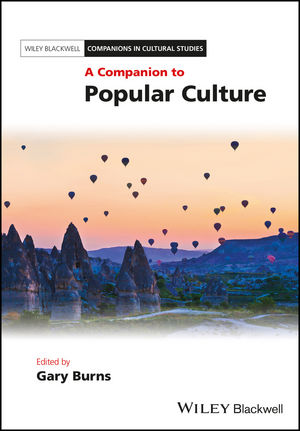 A Companion to Popular Culture
is a landmark survey of contemporary research in popular culture studies that offers a comprehensive and engaging introduction to the field.
Includes over two dozen essays covering the spectrum of popular culture studies from food to folklore and from TV to technology
Features contributions from established and up-and-coming scholars from a range of disciplines
Offers a detailed history of the study of popular culture
Balances new perspectives on the politics of culture with in-depth analysis of topics at the forefront of popular culture studies
See More
Notes on Contributors viii
Part I Introduction 1
1 Introduction 3
Gary Burns
Part II Popular Culture as a Field of Study 11
2 The Historical Study of Popular Culture 13
George Lipsitz
3 Textual Criticism of Popular Culture 31
Brendan Riley
4 Ethnographic and Folkloristic Study of Popular Culture 48
Daniel S. Margolies
5 Preservation, Restoration, and Accessibility of Popular Culture Materials 63
Karen E. Whedbee
Part III Texts, Genres, and Formulas 83
6 The History and Logic of Genre Study 85
Tricia Jenkins
7 Genres and Formulas in Popular Literature 101
Gary Hoppenstand
8 Popular Music Genres 123
Marco Katz Montiel
9 Popular Genres in the Visual Arts 144
Joy Sperling
Part IV Media and Technologies 165
10 Technological Determinism 167
Rob Drew
11 Material Culture and Heritage 184
Marilyn Motz
12 Film and Television in Popular Culture 204
Chuck Berg and Ron Wilson
13 Computers and Culture 223
Paul Booth
Part V Pastimes and Practices 243
14 Food and Culture 245
Ann Hetzel Gunkel
15 Sports 265
Thomas P. Oates
16 Circuses, Carnivals, World's Fairs and Expositions, and Theme Parks 284
Kathy Merlock Jackson
17 Humor in Popular Culture 302
Ben Urish
18 Tourism, Travel, and Transportation 322
Max J. Skidmore
Part VI Uses and Abuses 341
19 Advertising and Consumerism 343
Devon Powers
20 Fashion in Popular Culture 361
Patricia A. Cunningham
21 Popular Religion 381
Nancy A. Schaefer
22 Children's Popular Culture 401
Angela Sorby
23 Sex and Violence 421
Jane Caputi
Part VII Politics of Culture 441
24 The Culture Industries 443
Thomas A. Discenna
25 Globalization 461
Mel van Elteren
26 The Politics of Documentary 484
Jeffrey Chown
27 Culture Jamming and Media Activism 503
Amber Day
28 Who Owns Culture? 518
Heather McIntosh
29 Culture Wars, the Academy, and Future Directions for the Study of Popular Culture 537
Michael T. Marsden
Index 550
See More
Gary Burns is Professor and Chair of the Department of Communication at Northern Illinois University. A former President of the Popular Culture Association and former Executive Secretary of the Midwest Popular Culture Association, Professor Burns is Editor, with Thomas Kitts, of the journals Popular Music and Society and Rock Music Studies. He is the editor of two books on television and is the author of numerous articles and book chapters on popular music, music video, television, film, and other topics in popular culture studies.
See More
More in this series