Vocational Rehabilitation and Mental Health
ISBN: 978-1-4051-9249-1
232 pages
April 2010, Wiley-Blackwell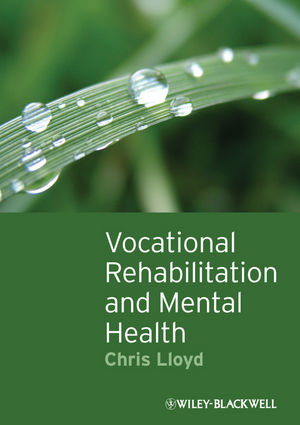 Vocational Rehabilitation and Mental Health is a practical guide for all members of the healthcare team to implementing effective services leading to sustained career development among people with mental illness. It examines the barriers to employment such as stigma, discrimination and fluctuating health and discusses the evidence underpinning the provision of effective employment services. The book goes on to examine some of the challenges with implementing evidence-based practice and discusses ways to overcome these challenges.
See More
Contributors vii
Preface xi
1 Employment and people with mental illness 1
Geoff Waghorn and Chris Lloyd
2 Evidence-based supported employment 19
Chris Lloyd
3 The successes and challenges of integrating mental health and employment services 33
Samson Tse and Nikki Porteous
4 Reducing employers' stigma by supported employment 51
Hector W.H. Tsang, Mandy W.M. Fong, Kelvin M.T. Fung and Patrick W. Corrigan
5 Motivational interviewing 65
Chris Lloyd and Robert King
6 When motivation for vocational assistance is unclear 79
Terry Krupa
7 Therapeutic alliance in vocational rehabilitation 95
Frank P. Deane, Trevor P. Crowe and Lindsay G. Oades
8 The importance of vocation in recovery for young people with mental illness 115
Chris Lloyd and Geoff Waghorn
9 Employment and early psychosis 135
Niall Turner
10 Work-related social skills and job retention 157
Hector W.H. Tsang and Sally M.Y. Li
11 When symptoms and treatments hinder vocational recovery 173
Terry Krupa
12 Supported education 187
Chris Lloyd and Samson Tse
13 Managing personal information in supported employment for people with mental illness 201
Geoff Waghorn and Christine E. Spowart
Index 211
See More
THE EDITORS
Chris Lloyd has professional qualifications in the field of occupational therapy. Chris has an extensive background in the area of mental health and has worked in a variety of settings with people of different ages and a variety of needs. Her interests lie in the rehabilitation of people with a mental illness, particularly social inclusion, recovery, and vocational rehabilitation. She is currently employed as a Senior Lecturer in occupational therapy at the University of Queensland where she teaches mental health to undergraduate and postgraduate students. She is the co-author of the 'Handbook of Psychosocial Rehabilitation'.

Geoff Waghorn has professional qualifications in the fields of psychology and psychiatry. Geoff has an extensive background in vocational rehabilitation for people with psychiatric disabilities in particular. He has worked for a large provider of Australian Government funded vocational rehabilitation services. Geoff is currently employed as a Senior Scientist for the Queensland Centre for Mental Health Research, where he leads the Vocational Rehabilitation stream within the Policy and Economics Group. This research aims to improve functional recovery and vocational rehabilitation outcomes for people with mental illness.
See More