Better Consciousness: Schopenhauer's Philosophy of Value
ISBN: 978-1-4051-9294-1
208 pages
October 2009, Wiley-Blackwell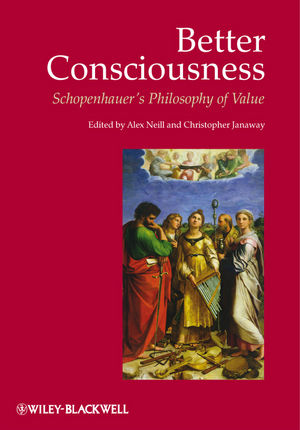 Better Consciousness: Schopenhauer's Philosophy of Value
reassesses Schopenhauer's aesthetics and ethics and their contemporary relevance.
Features a collection of new essays from leading Schopenhauer scholars
Explores a relatively neglected area of Schopenhauer's philosophy
Offers a new perspective on a great thinker who crystallized the pessimism of the nineteenth century and has many points of contact with twenty-first century thought
See More
Preface. 1. Schopenhauer's Philosophy of Value (Christopher Janaway, University of Southampton, UK and Alex Neill, University of Southampton, UK). 2. Back to Truth: Knowledge and Pleasure in the Aesthetics of Schopenhauer (Paul Guyer, University of Pennsylvania, USA). 3. Aesthetic Experience in Schopenhauer's Metaphysics of Will (Alex Neill, University of Southampton, UK). 4. Schopenhauer on Aesthetic Understanding and the Values of Art (Bart Vandenabeele, Universiteit Gent, Belgium). 5. Poetic Intuition and the Bounds of Sense: Metaphor and Metonymy in Schopenhauer's Philosophy (Sandra Shapshay, Indiana University – Bloomington, USA). 6. Life is but a mirror: On the connection between ethics, metaphysics and character in Schopenhauer (Matthias Koßler, Johannes-Gutenberg Universität, Germany). 7. Knowledge and Selflessness: Schopenhauer and the Paradox of Reflection (Bernard Reginster, Brown University, USA). 8. Natural Beauty and Optimism in Schopenhauer's Aesthetics (Robert Wicks, University of Auckland, New Zealand). 9. Compassion and Solidarity with Sufferers: The Metaphysics of Mitleid (David E. Cartwright, University of Wisconsin - Whitewater , USA). 10. Schopenhauer's Politics: Ethics, Jurisprudence and The State (Julian Young, University of Auckland, New Zealand). 11. Schopenhauer, Nietzsche, Death and Salvation (Neil Jordan, Godalming, UK). Index.
See More
Alex Neill
is a Reader in Philosophy at the University of Southampton. His current focus is on the history of 18
th
- and 19
th
-century philosophical aesthetics. He is co-editor (with Aaron Ridley) of
The Philosophy of Art: Readings Ancient and Modern
(1995) and
Arguing About Art: Contemporary Philosophical Debates
, 3e (2007).
Christopher Janaway is Professor of Philosophy at the University of Southampton. His research interests fall chiefly in the areas of 19th-century German philosophy and aesthetics.  His recent books include Schopenhauer: A Very Short Introduction (2002), Reading Aesthetics: Selected Texts with Interactive Commentary (Blackwell, 2005), and Beyond Selflessness: Reading Nietzsche's Genealogy (2007).
See More