Meaning and Mystery: What It Means To Believe in God
ISBN: 978-1-4051-9344-3
Paperback
256 pages
January 2010, Wiley-Blackwell
US $35.95

Add to Cart
This price is valid for United States. Change location to view local pricing and availability.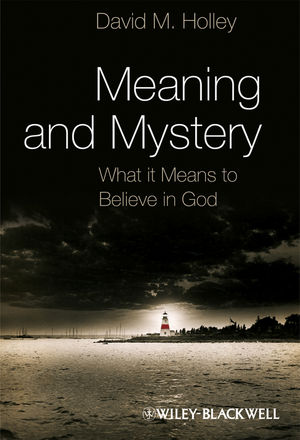 "With these minor criticisms in mind, Holley's work should be commended for its unique and provocative approach of defending religious belief in the age of modernity which, at the same time, defends naturalism and atheism. He has revealed to us that one need not be legitimized at the expense of the other." (International Journal For Philosophy of Religion, 8 January 2011)
"Holley makes strong but subtle arguments for a transcendent agent conception of God, and the need for this image for a coherent morality, the value of revelation-bearing traditions, and the priority of practice for discovering belief." (CHOICE, September 2010)"The question of the existence of God has been part of the philosophical debate ...with arguments advanced for and against it. In this heartfelt ... argument for God's existence, the author studies the subject from every perspective. Echoes of ancient thinkers as well as more contemporary observers of the religious scene are well represented herein. Holley is clearly well versed in the arguments on both sides of the question. And he shows some insight into those who find belief in God to be a thing devoutly to be avoided even while espousing belief as part of his own life. In the end, Holley chooses faith over doubt and offers guidelines for those seeking an experience with the divine. His observations are well worth reading." (Publishers Weekly, January 2010)
"This book achieves something very difficult: it provides a fresh and innovative way of looking at the age-old questions about religious faith that philosophers have argued about for centuries. Written in a clear and engaging style, Holley shows the role 'life-orienting stories' play for both believers and atheists, and, without dogmatism or minimizing difficulties, he shows how religious faith might be possible in the contemporary world."
—
C. Stephen Evans
, Professor of Philosophy and Humanities, Baylor University
"The epistemic bearing of all-encompassing narratives on religious belief and disbelief has been largely neglected by philosophers in the English speaking world. Holley's lucid and well-written book is a welcome corrective."
—William J. Wainwright, Distinguished Professor of Philosophy Emeritus, University of Wisconsin-Milwaukee