The Handbook of Hispanic Sociolinguistics
ISBN: 978-1-4051-9500-3
Hardcover
816 pages
March 2011, Wiley-Blackwell
US $218.95

Add to Cart
This price is valid for United States. Change location to view local pricing and availability.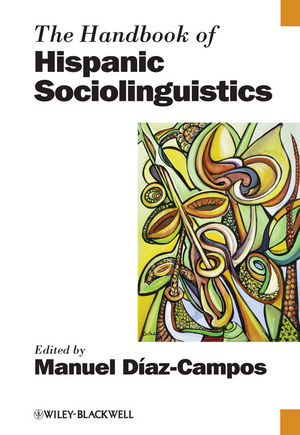 Other Available Formats:
E-book
"A welcome and timely publication … Díaz-Campos singlehandedly tackled this massive task with impeccable editorial skills and a well-informed vision, delivering a readable and instructive volume … [It] offers an excellent compilation that well represents the scholarship in the field of Hispanic sociolinguistics. It reviews major issues, literature, and findings, covering all important morphosyntactic and phonological variables and extra-linguistic factors, applications of variationist methods to the study of language change and acquisition, macro and micro approaches to language contact situations, and issues of language planning and ideology. There is an appropriate balance of Spanish-speaking communities on both sides of the Atlantic … An imperative reference for scholars and advanced students of Hispanic sociolinguistics, obligatory on all MA and PhD reading lists on Hispanic linguistics, and highly recommended for anyone seeking a comprehensive, contemporary view of the field." (Journal of Sociolinguistics, 1 May 2013)
"This is a state-of-the art and informative book that tackles many of the pivotal issues in theoretical and experimental Hispanic sociolinguistics. It features internationally renowned contributors from around the world, providing a broad view and new insights into this complex and dynamic field. Its pan-Hispanic approach – together with its breadth and novelty – make the volume an indispensable reference book for both students and researchers." (Language in Society, 1 April 2013)
"In conclusion, this volume merits praise for having compiled many excellent chapters—representing both traditional and newer research trends in Hispanic sociolinguistics—by its thirty-five authors . . . As it is, it should be recommended for purchase by our university libraries as a reference book." (Project Muse, 23 April 2013)
"The volume presents a clear explanation of the history of the field, recent advancements, and future directions for the field of Hispanic sociolinguistics that are relevant and accessible to anyone with an interest in the topic. The compilation is a "must-have" for the bookshelf of any modern sociolinguist, and it is a resource that will help raise questions and shape debates in the field for years to come." (Linguist, 4 August 2012)

"The book is a really impressive collection of key issues in today´s sociolinguistics. It presents the most researched areas of the field in a comprehensive way and thereby reflects the rich diversity of dialects and varieties spoken across the Americas and Spain. It should certainly be compulsory reading for anyone interested in sociolinguistics." (ELanguage, 2011)
"The material assembled in this volume will be essential reading for anyone interested in sociolinguistics. The thirty-five chapters offer a well-balanced view of the diversity in the Spanish-speaking world."
Rebeca Acevedo, Loyola Marymount University
"With thorough and accessible treatments, the Handbook is essential reading for both students and seasoned scholars in Spanish and Linguistics and will engage the attention of readers and researchers in allied fields as well. "
Almeida Jacqueline Toribio, University of Texas, Austin