Teaching Psychology in Higher Education
ISBN: 978-1-4051-9549-2
Paperback
328 pages
March 2010, Wiley-Blackwell
US $55.95

Add to Cart
This price is valid for United States. Change location to view local pricing and availability.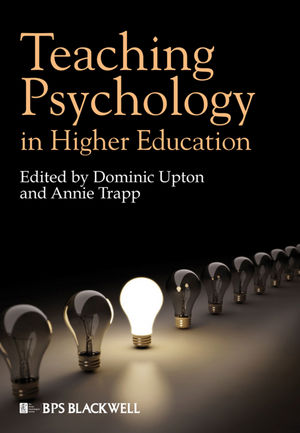 "The breadth of coverage in Upton and Trapp's volume is considerable, and the quality of information in each chapter is high...The tone of the book is always positive and energetic, as one would expect from a rally-cry. Read it, and join the cause." (
PLAT journal
, December 2010) "Dominic Upton and Annie Trapp have put together a useful guide to teaching psychology in higher education. It includes standard topics such as how to teach statistics and supervise research projects, and novel topics, such as using psychology to teach psychology and designing a creative curriculum.
"Readers will learn about the psychology major in the European Union, how the educational process is being shaped by international agreements, and other topics that have no geographical boundaries, such as teaching graduate students and understanding the diversity of students we serve. Both new teachers and seasoned ones will gain in their understanding of the enterprise we call 'teaching psychology', and find helpful ideas to make them more effective instructors who can teach in ways that make learning last."
—Diane F. Halpern, Trustee Professor of Psychology and Roberts Fellow, Claremont McKenna College, USA
· "This book is edited and written by some of the leading practitioners of the area who are, and have been, closely involved in encouraging the development of psychology teaching and learning in Higher Education; both for those currently teaching in institutions, and for their students. The authors have been actively engaged in the debates, and have a wide perspective to offer.
"This should be essential reading for all those who are currently engaged in teaching psychology in higher education. It is not a 'how to do it' book; it has a thoughtful and informed basis, which is thought-provoking for the reader and useful as a source book of ideas and suggestions. It is to indicate what we need to be alerted to, what we need to know, what we may need to think about in a time of rapid change in Higher Education, where we should be very aware of contemporary debates.
"I would recommend that all those concerned with improving our Psychology degrees should be using this source book of ideas, recent developments, useful contacts, helpful suggestions and references."
—Peter Banister, Head of Psychology, The Manchester Metropolitan University, UK
· "This is a valuable handbook for those teaching psychology in higher education. It is full of useful information and helpful ideas to enhance the way we do things."
—Richard Latto, Chair, Psychology Education Board of the British Psychological Society
· "This volume covers topics relevant to psychology educators, ranging from practice-oriented advice on how to effectively teach research methods and statistics, to the impact of the Bologna process and the future of psychology education and training. Most chapters begin with a listing of topics to be covered, and end with a listing of key issues and research questions, all of which make the material more accessible, relevant, and credible. This volume is likely to become an indispensable handbook for tertiary psychology educators who are genuinely interested in improving student learning outcomes."
—Jacquelyn Cranney, University of New South Wales, Australia
'Teaching Psychology in Higher Education provides an up-to-date summary of the literature in a rapidly developing area of interest. It will be a very useful source for psychology academics interested in improving their teaching, and their students' learning. It represents an excellent starting point for a deeper scholarly enquiry in a wide variety of topic areas.'
—Dr Stephen Provost, Southern Cross University, Australia